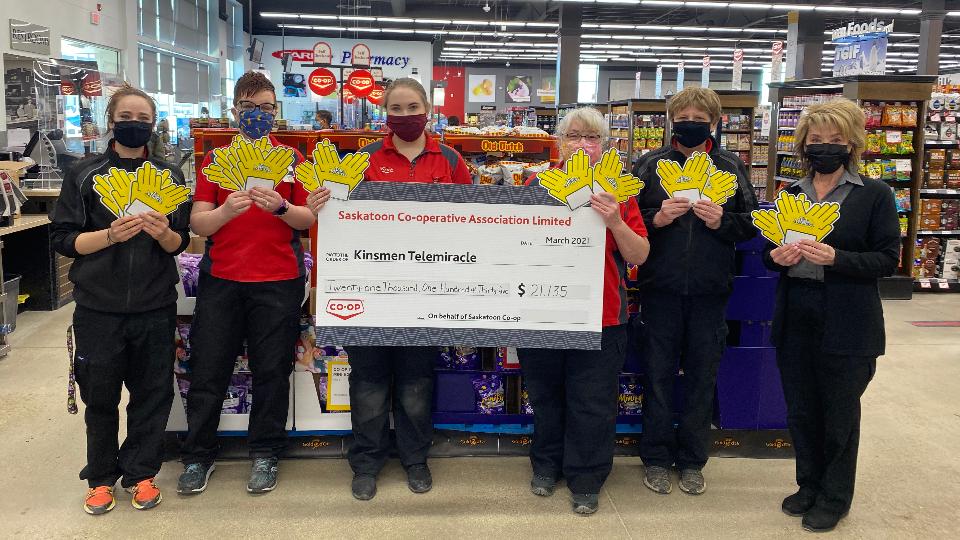 Telemiracle 45 Fundraising
February 9, 2021
Update: March 9, 2021
Celebrating our Team Members who fundraised $21,135 for TeleMiracle 45!

Thank You to our incredibly generous customers from Saskatoon, Colonsay, Dalmeny, Hepburn, Martensville, Rosthern, Waldheim, Warman and Watrous!

Congratulations Telemiracle on $5.6 million raised to help those in need in Saskatchewan.
Pictured above: Our Front Line Team Members from Stonebridge food store, left to right, Breanne, Lindsay, Emily, Sandra, Lucy and Carol.

--------------------------------------------------------------------------------------------------------

Our teams are fundraising for Telemiracle again this year for the month of February.
At the point of sale we will be inquiring if our members and customers would like to make a donation.

Last year our food stores, c-store/gas bars and home centres raised over $17,980 by selling #helpinghands in the month of February!! 100% of the fundraised $$s go direct to Telemiracle.
This year our liquor and agro locations have joined in our fundraising!


Telemiracle continues to provide much needed support for Saskatchewan families and we are proud to be able to help with their fundraising. The telethon weekend is February 27 & 28. 'Ring those Phones' that weekend or donate online at Telemiracle.