Saskatoon Co-op Provides $10K to Prairie Harm Reduction
Actions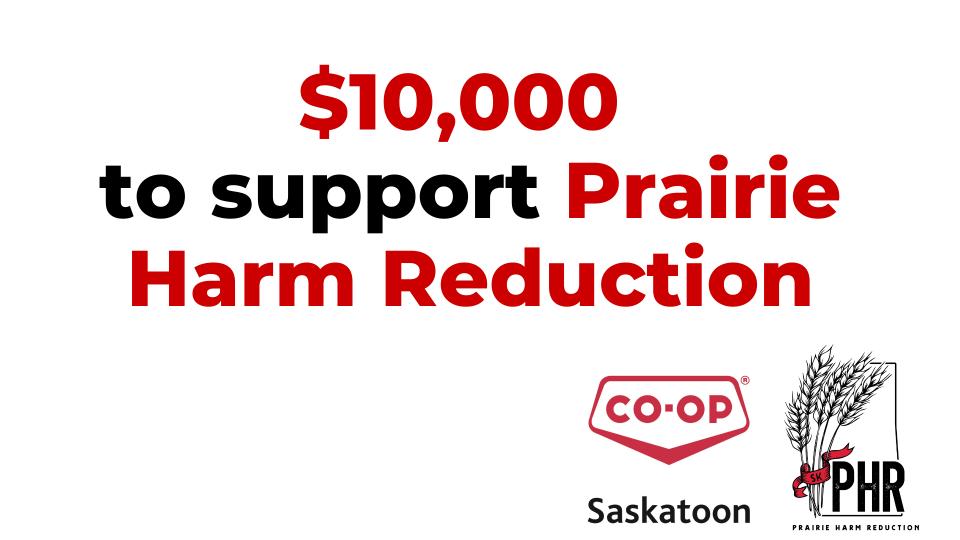 Saskatoon Co-op Provides $10K to Prairie Harm Reduction
April 26, 2021
Saskatoon Co-op is proud to announce a donation of $10,000 to Prairie Harm Reduction.
"We place immense value on the work that Prairie Harm Reduction does for our community, and are happy to be able to offer them our financial support," says Graham Addley, Chair of the Saskatoon Co-op's Board of Directors. "At Saskatoon Co-op we are committed to strengthening our community and making it a safe and healthy environment for everyone. The work Prairie Harm Reduction does to protect and support some of our community's most vulnerable members is critical to ensuring the well-being and sustainability of Saskatoon, and Saskatchewan more broadly."
Prairie Harm Reduction is focused on improving the quality of life for all members of the community, and they do this through establishing and supporting gold standards in harm reduction. Prairie Harm Reduction is focused specifically on serving people at risk and affected by HIV and hepatitis C, and are actively working to reduce the discrimination and deaths related to these infections.
"Prairie Harm Reduction is thrilled that Saskatoon Co-op is showing continued community leadership and has decided to donate towards Prairie Harm Reduction," says Jason Mercredi, Executive Director of Prairie Harm Reduction. "This donation will allow our organization to continue to serve people living with addictions, and continue to save lives in Saskatoon."
Saskatoon Co-op Chief Executive Officer (CEO), Gerald Hiebert, believes supporting Prairie Harm Reduction is an extension of the Co-operative value system. "We believe it is our responsibility to take care of the communities we call home," says Hiebert. "Through this donation we are living our values as a Co-operative, by supporting an organization that offers valuable services to our community members."
Saskatoon Co-op encourages others to provide support to Prairie Harm Reduction by making a donation on their website at prairiehr.ca, or by supporting the businesses in Saskatoon that are currently running fundraising campaigns to support Prairie Harm Reduction.
Saskatoon Co-op is a different kind of business – we're truly local. We were built by you and built for you. Saskatoon Co-op is governed by a nine member Board of Directors, elected by our members. We provide top quality retail products and exceptional services to our customers and members.
For media inquiries, please contact:
Rachel Kehrig
Senior Marketing & Communications Manager
Saskatoon Co-op
Ph: 306-230-6488
Email: Rachel.kehrig@saskatooncoop.ca

Jason Mercredi
Executive Director
Prairie Harm Reduction Inc.
Ph: 306-242-5005 ext. 0
Email: admin@prairiehr.ca