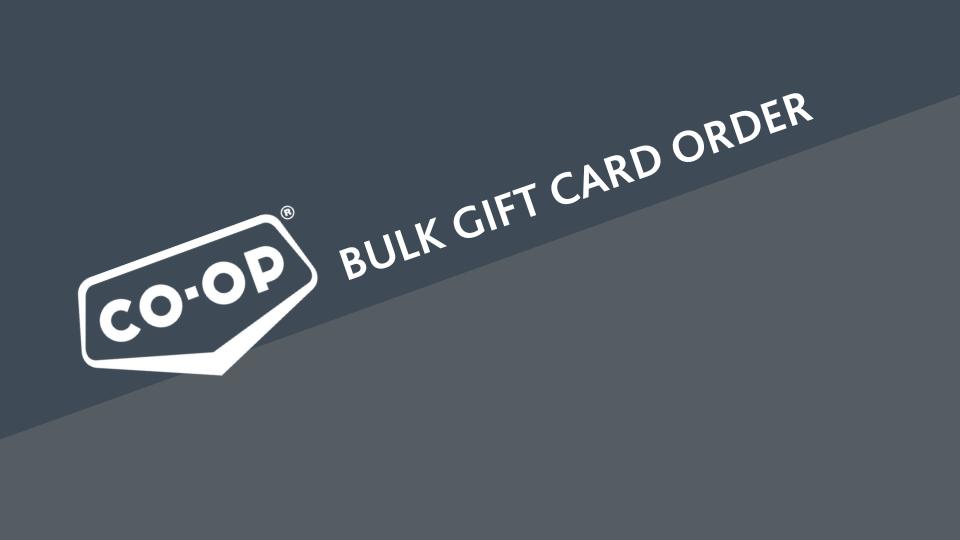 Saskatoon Co-op Gift Cards
August 9, 2022
Saskatoon Co-op gift cards are available to purchase at all of our locations with any denomination up to $1,000. Co-op Gift Cards that are purchased at our Saskatoon Co-op locations are accepted at all Saskatoon, Martensville, Warman, Colonsay, Watrous, Hepburn, Rosthern, Dalmeny and Waldheim locations, as well as many participating Co-op locations in Western Canada. If you are looking to use your gift card at locations other than the Saskatoon Co-op trading area, we advise that you contact the location you plan to use your card at directly, to ensure they will accept your card.

For gift card balance inquiries, a cashier at your nearest Co-op would be happy to check the balance on your card for you.

Saskatoon Co-op Gift Card Terms and Conditions:

The following terms and conditions are set to ensure the Saskatoon Co-op Gift Card Program has value to the community.

Gift cards can be used for everyday consumer goods at time of purchase (ex. food, pharmacy, pump gas, liquor, hardware, and lumber purchases). Gift cards are non-refundable and cannot be exchanged for cash, used for payment on an account, bulk petroleum, crop protection, fertilizer, grain bins, livestock equipment, bulk feed, prepaid gift cards, home renovations, or estimated & quoted purchases (decks, garages, flooring).
The Saskatoon Co-op is not responsible for any lost or stolen gift cards. If you have the full card number, you can email GiftCard@saskatooncoop.ca to see if there is an outstanding balance on the card. We can then deactivate the card and reissue a new one with the outstanding balance.

Bulk Gift Card Orders:

Discounts for bulk orders are for businesses only and are not available through our locations. Bulk order discounts are applied per order only and are not cumulative. Discounts are only available through our Administration Gift Card program by filling out the online order form below. We do not take gift card orders over the phone.

For bulk orders, the minimum value of the order must be $500, preferably with a minimum of 10 gift cards per denomination. Any orders below the minimum order amount can be purchased at any of our locations. Gift Cards are available in any denomination up to $1,000.
Our discount for bulk Saskatoon Co-op Gift Card orders are:
0% discount on orders less than $499
2.5% discount on orders between $500-999
5% on orders over $1000 to a maximum of $20,000

Our payment options for bulk discount orders are: cash, debit, certified cheque, bank draft, online bill payment, or EFT. If wanting to pay by credit card, the order will not be discounted. Credit card must be done by chip and pin at our Administration building. We do not take credit card over the phone and we do not accept personal cheques. Other than online bill payment and EFT, all payment will be collected at the time you pick up your order.

If paying by online bill payment or EFT, we will email you instructions on how to set it up along with your invoice. Please send payment right away to ensure your order can be ready in a timely manner. We will begin processing your order once we receive payment confirmation through our credit department. Confirmation of online bill payment and EFT may take 24-72 hours, depending on who you bank with.

Once your order has been submitted, a representative will be in touch with you by email in 1-3 business days with an invoice. All gift card orders are to be picked up at our Administration building, 503 Wellman Crescent Monday - Friday, 9am - 4pm. We are closed weekends and statutory holidays.

Saskatoon Co-op uses Do Some Good to power their application forms.


Click here to place your order