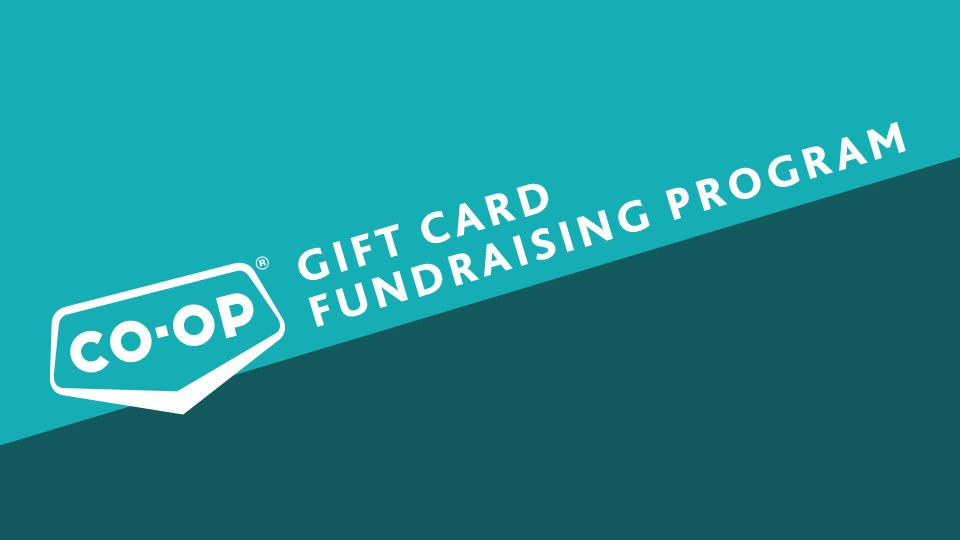 Gift Card Fundraising
April 14, 2022
January 18, 2023
Thank you for your continued interest in Saskatoon Co-op's Gift Card Fundraising program, we are looking forward to working with you! Due to staffing shortages and unforeseen circumstances, our Gift Card Fundraising program will be accepting applications in March 2023. If you have questions, please email them to: GiftCard@saskatooncoop.ca

Our Gift Card Fundraising Program helps local community groups and non-profits raise funds to support their activities and operations.

Whether you're raising money to help your sports team, dance crew, charity or travel club, Co-op is here to help!
Eligibility
We welcome applications from:

Non-profit/registered charitable organizations exempt from taxation under the Canada Income Tax Act, whose programs and services benefit our community
Not-for-profit community groups and youth organizations (Non-registered are also considered)
How it works:
Apply to participate (our online application form will be available March 2023). Once your group has been approved, you may start preselling Co-op Gift Cards to your community supporters. Gift cards are available in amounts of $25, $50 and $100. Groups can participate in the Gift Card Fundraising Program once per fundraising season and will receive a discount of 10% up to $1,000. The minimum order amount for gift cards is $2,000.

The Saskatoon Co-op's responsibilities:

To provide the organizer with the forms needed for sales and tracking. We will ensure gift cards are ready for the group 2-5 business days after the Consolidated Gift Card Order form and payment have been indicated. In the event we are unable to have your order done in a timely fashion, an e-mail will be sent to you regarding the status of your order.

The organizer's responsibilities:

To obtain, copy and distribute sales forms to your group. Collect forms and payment from your group after fundraising, and complete the Consolidated Gift Card Order Form. Once completed, send to GiftCard@saskatooncoop.ca. You will then be emailed an invoice and a time to when you may pick up your order.

Payment:

Online bill payment is the preferred and easiest method of payment. Please note payment confirmation through our credit department can take up to 24-72 business hours depending on who you bank with. Certified Cheque, Bank Draft, Debit and Cash can be accepted and can be collected at the time of your order pick-up. We do not accept personal cheques or credit card.


More information and requirements
Please note that someone on your fundraising team must have a Saskatoon Co-op membership to participate in this program, and that your group's purpose should align with our Co-op's values of community, integrity, and excellence.

Saskatoon Co-op, like other community-minded businesses, receives numerous requests for donations. Please allow a minimum of 2 weeks to review your requests and respond.

We work hard to assist in as many community organizations as possible, however due to the high volume of requests received, not all worthwhile proposals will be approved. Such a response does not reflect upon the value of your organization and the valuable service you provide.

Gift cards are for day-to-day consumer goods and are to be used at the time of purchase. Gift cards cannot be redeemed for cash, pay a charge account, purchase contractor or agro packages, or purchase other gift cards.

Gift cards are accepted at all Saskatoon, Martensville, Warman, Colonsay, Watrous, Hepburn, Rosthern, Dalmeny and Waldheim locations, as well as many other participating Co-op locations in Western Canada. If you are looking to use your gift card at locations other than the Saskatoon Co-op trading area, please contact that location directly.