Plastic Bag Elimination Starting January 7, 2023
Actions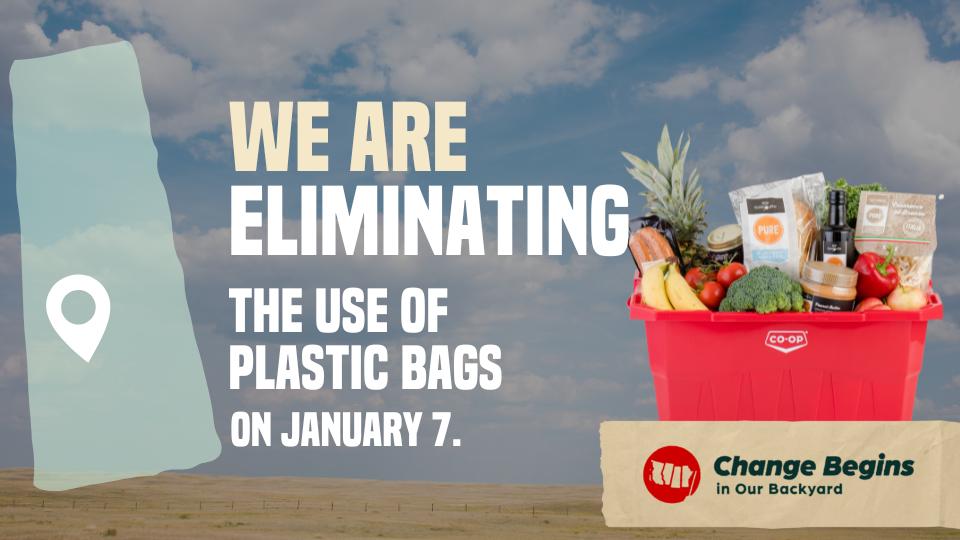 Plastic Bag Elimination Starting January 7, 2023
November 2, 2022
Starting January 7, 2023, we are excited to announce that Saskatoon Co-op will be eliminating single-use plastic bags from the checkouts at all of our locations. We are taking steps to reduce our use of plastic across Saskatoon Co-op and this is one way we will be doing so. By making this change we will prevent the use of over 6 million single-use plastic bags! This change will be made at our food stores, home centres and ag centres. We already do not have plastic bags available at our gas bars/c-stores and liquor stores.
Why are we doing this now?
Sustainability is a key element of Co-op and our future. We want to ensure we are sustaining our communities for generations to come.
The federal Government has also mandated that plastic checkout bags can not be manufactured or imported for sale in Canada after December 20, 2022 and will not be able to be sold in Canada after December 20, 2023. We are taking steps ahead of these timelines by eliminating plastic bags on January 7, 2023, in order to reduce our impact to the environment.
We encourage all our team members, members and customers to remember their reusable bags from home! We have reusable totes and bag options for sale in-store, including a reusable cloth bag for 33 cents per bag available at the tills in case you forget to bring reusable bags on a visit.