Over $31,000 for Saskatoon & Area Fuel Good Day Charities
Actions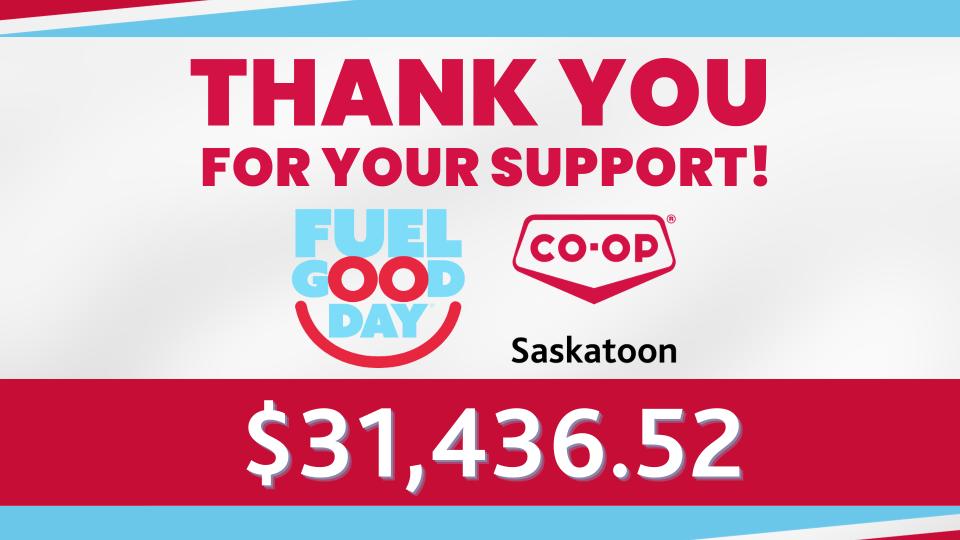 Over $31,000 for Saskatoon & Area Fuel Good Day Charities
October 10, 2023
On September 19, Saskatoon Co-op members and customers helped raise over $31,000 to support nine charities in Saskatoon and area, during Fuel Good Day. On the day, five cents from every litre of gasoline and diesel purchased at all Saskatoon Co-op gas bars was donated to charitable organizations chosen in each of the nine communities where we have business.
"This is our second year choosing charities in each of the communities where we operate, and again we've seen our communities rally around the charities benefiting from Fuel Good Day," said Gerald Hiebert, CEO, Saskatoon Co-op. "These local organizations are supporting everything from food security, providing accessibility to sport and culture, to providing resources and supports to vulnerable populations. There is so much good happening in each of our communities and I want to thank our members and customers for their support during Fuel Good Day."
We chose the following Fuel Good Day charities over the nine communities where we have operations:

Saskatoon – Creative Kids Saskatchewan
Warman – Hope's Home
Martensville - Sask Central Victim Services
Dalmeny – Dalmeny Fire and Rescue
Hepburn – Hepburn Childcare Hub
Waldheim – Waldheim Minor Ball
Rosthern – Rosthern Minor Hockey
Watrous – Watrous Seniors Recreation Club
Colonsay – Colonsay Food Bank

This year, Co-op locations across Western Canada raised over $635,000 for 168 charities across during Fuel Good Day. There has been over $4.2 million donated to local charities and non-profit organizations since Fuel Good Day started in 2017.