COVID-19 Update for Saskatoon Co-op
Actions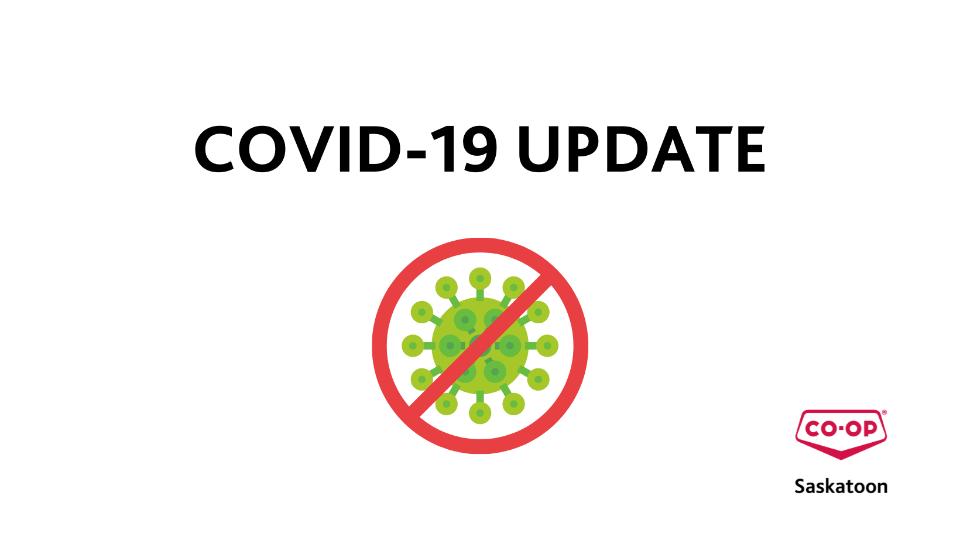 COVID-19 Update for Saskatoon Co-op
February 25, 2022
At Saskatoon Co-op, we ask for your continued patience and support as we navigate our way out of the pandemic. We recognize that this is a continually evolving environment and that we may need to change our approach as the situation changes.

Masks
We believe it is our responsibility to care for the vulnerable members of our community and that we can do that by continuing to wear masks. Saskatoon Co-op highly-encourages that all our Team Members and customers continue to wear masks. While highly-encouraged, masks will not be mandatory in our locations, except during the Protected Shopping Hours each week.
Protected Shopping Hours
Saskatoon Co-op will implement protected shopping hours at our locations.
Protected shopping hours will occur each day from 8:00 AM – 9:00 AM at all applicable locations.
These times are set aside to create a risk-reduced shopping environment for our customers and members who are vulnerable, at risk, in healthcare, or simply taking extra precautions related to COVID -19.
During protected shopping hours, Saskatoon Co-op Team Members will be required to wear a mask.
We will highly encourage customers shopping during this hour to also wear masks, but will not enforce a mandatory masking policy for our customers.
Signage and Barriers
Signage encouraging social distancing and sanitization will remain in place at all of our locations. Barriers at our tills, counters, and service desks will continue to remain in place.
Enhanced Sanitization Processes
Sanitization processes for things like carts, pumps, door handles, tills, and other places will remain in place.
Sanitizer will continue to be made available to our customers upon entrance to the store.
Respect & Kindness
As we enter yet another new phase of the COVID-19 pandemic, the need for kindness and respect for our Team Members and our customers has never been higher. Our community and each of our Team Members will have different comfort levels in terms of health and safety practices related to COVID-19. We ask our Team Members as well as our customers to please treat everyone you encounter with respect for their personal choices, and with kindness, as we are all trying to do our best as we pass the two year mark of the COVID-19 pandemic.