Fuel up with Co-operative Coffee
Actions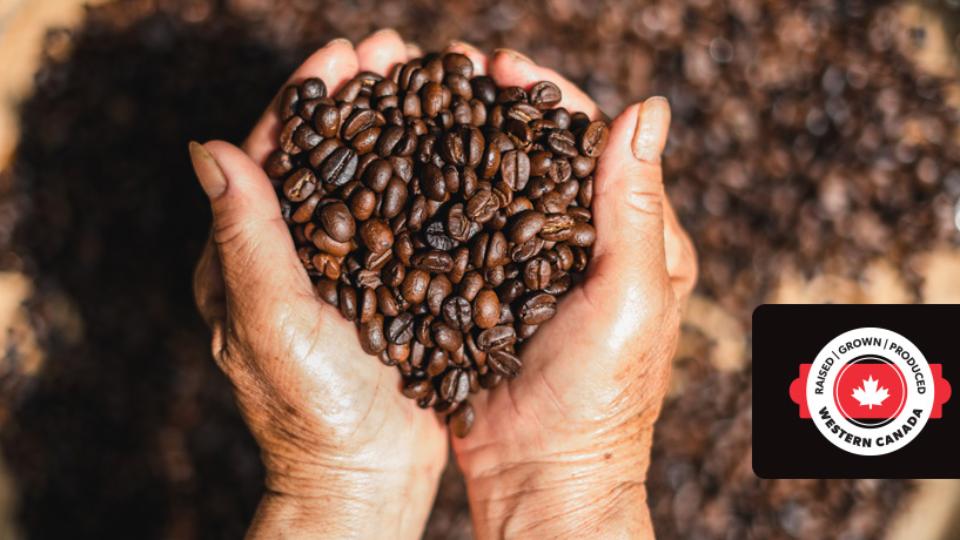 Fuel up with Co-operative Coffee
April 18, 2023
From the first smell of coffee brewing in the morning to the last sip with dessert, we know that a good cup of coffee is an important part of your day. Treat yourself to a premium cup of coffee from Co-op.
Co-operative Coffee is exceptional coffee from around the world, with 10 varieties from Central America, South America, Africa and Asia ranging from light roasts to dark. From beans to brewing, Co-operative Coffee delivers premium beans from sustainable sources to create the perfect cup for you.
"Coffee purchased at a grocery store, gas bar or convenience store doesn't have to be generic," said Sav Bellissimo, Store Brands Manager with Federated Co-operatives Limited (FCL). "We want to emulate the coffee house experience and help our customers have a memorable cup of coffee."
Co-operative Coffee is available in bags of whole beans or ground coffee and in compostable pods at Co-op Food Stores in Western Canada so you can choose the best way to prepare your brew at home.
When you're on the go, you can also grab a cup of Co-operative Coffee at participating Co-op Food Store delis and Co-op Convenience Stores and Gas Bars.
Made in co-operation
Our coffee isn't co-operative in name only. It's a collaboration between Co-op, our B.C.-based master roaster who perfects the blends and our suppliers from around the world. Working together, we're providing the beans for you to make a quality cup in your home.
Co-op believes in co-operation amongst co-operatives. Our Peruvian organic and fair trade coffees are sourced from the Monte Verde Café Association, a co-operative of about 800 small farms deep in the Amazon, in the Rodriguez de Mendoza province. This co-operative helps farmers improve the quality of the coffee through specialized training on growing and harvesting processes.
"On a seasonal basis, we'll be procuring beans directly from growers," Bellissimo said. "Direct trade and fair trade are methods we use to source beans in a sustainable and socially responsible manner."
In direct trade, Co-op works directly with small farmers through our roaster Canterbury Coffee to establish coffee bean quality and price, which benefits the grower. The direct trade beans are available in-store at different times throughout the year from different co-operative growers and regions, depending on the growing season. Keep an eye on your grocery store shelves for these must-try beans from small farms in Guatamala, Rwanda and El Salvador.
Your new favourite
Our master roaster is also one of 3,500 'Q graders' in the world. Certified by the Coffee Quality Institute, our roaster selects the best quality beans, looking for factors such as acidity, body, flavour and balance, and roasts them to perfection in small batches.
Co-operative Coffee flavour line-up includes:
Breakfast Blend: Lightly roasted with low acidity and notes of caramel.
Columbia Blend: Caramel and apricot aromas, rich wine-like flavour with moderate acidity. It's also available in decaf.
French Roast: Heavy-bodied and bold in flavour, with smoky aroma and rich taste. It's also available in decaf.
Espresso Blend: Fine Arabica coffees with balanced sweet flavour and ultra-smooth finish.
Ethiopia: Fragrant notes of citrus and fresh fruit using Yirgacheffe and natural Sidamo beans.
Sumatra: Earthy nuances of fresh herbs and cloves create unique flavour profile with mild acidity.
Costa Rica: Roasted malt and smoky aromas with notes of dark chocolate and nuts.
Peru: Smoky aroma with dark chocolate and crisp sweetness using fair trade and organic beans.
Nicaragua: Herbal fragrances and subtle hints of honey and caramel using fair trade and organic beans.
Rwanda (Limited edition direct trade): Heirloom variety Bourbon Arabica coffee, notes of caramel and a unique toffee-like aftertaste.
El Salvador (Limited edition direct trade): A lightly roasted coffee exhibiting the tartness of green apple, the sweetness of vanilla and a dusting of cocoa.
However you enjoy your daily cup of joe, there's a Co-operative Coffee for everybody.