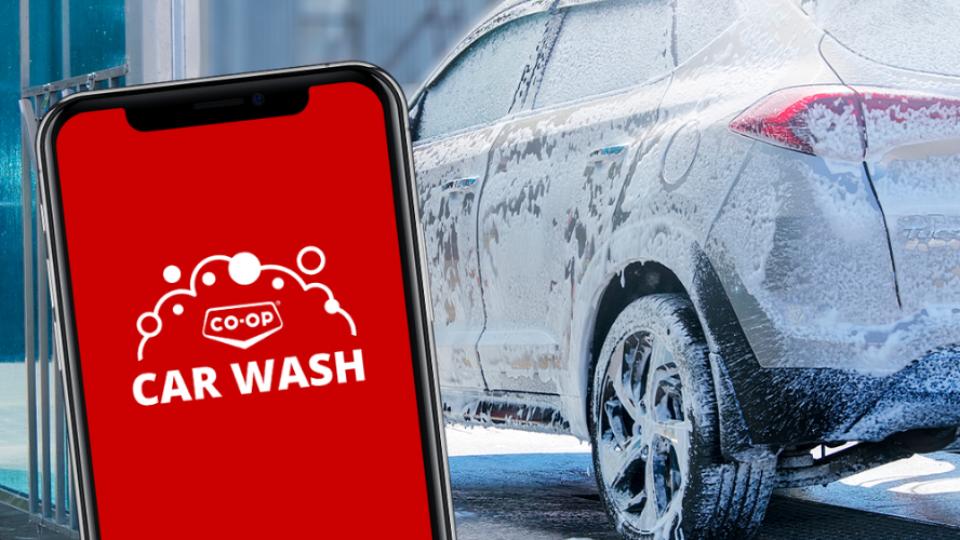 Co-op Car Wash
April 17, 2023
Earn loyalty rewards just for washing your car and use them to get FREE washes at Saskatoon Co-op!
Our Co-op car wash app is now available and FREE to download for Apple and Android users.
Driving past our gas bar and realize your vehicle could use a wash? Just tap the app and buy a wash! It's convenient, it's contactless, and you never have to leave your vehicle.
You can buy single washes and earn loyalty rewards to earn FREE washes or you can purchase one of our monthly wash subscription packages. You have the choice between a Limited Subscription offering, providing four washes every month at a discounted price OR if you're a frequent washer, we now have our NEW Unlimited Subscription wash packages*. It has never been easier to keep your vehicle looking great. See app for pricing and package details.
Loving the Co-op car wash app? Share it with friends and family and earn even MORE loyalty rewards! Click the My Profile tab and simply share the app via email, text or social media.
*Unlimited Subscription packages offer a maximum two (2) washes per day during subscription periods.
Download the Co-op Car Wash App on the App Store or Google Play.

NON-UNLIMITED Subscription Pricing:
***Four washes per month

| | |
| --- | --- |
| Wash | Regular Sub. Rate |
| Regular | $24.99 |
| Premium | $29.99 |
| Extreme | $35.99 |
UNLIMITED Subscription Pricing:
***2 washes per day

| | |
| --- | --- |
| Wash | Regular Sub. Rate |
| Regular | $55.99 |
| Premium | $65.99 |
| Extreme | $75.99 |
Frequently Asked Questions:

How do I activate a wash with my subscription?
The Co-op Car Wash App will only release a subscription code when you are at a Saskatoon Co-op car wash location. Simply tap "Wash My Car" in the app to receive a code you'll enter on the car wash terminal's keypad.
My code won't load, what should I do?
Retrieving a code can take up to 10 seconds to load. Don't exit the code-loading screen while waiting for a code to appear. If a code is taking longer than 10-15 seconds, close the app and try again.
Do my unused washes carry over to the next month?
After each billing period, your wash amount will reset to four washes. Unused washes don't carry over.
How can I wash my car if I use all of my wash codes?
You're able to purchase a single wash at any time under the Search tab. Once you're there, select the first location and select "Buy Wash" on your preferred wash offering.
Do I get rewards points from the subscription program?
Rewards points are only earned on single-sale wash purchases.
What is the subscription billing period?
Your subscription will charge your credit card at the time of purchase and then subsequently on the renewal date, which can be found on the Wash tab under the subscription name (date of purchase in the following month).
How can I cancel my subscription?
You can cancel your subscription under the Codes tab of your app. Tap "Subscriptions" in the top right corner then select "Cancel Pass". You'll be able to use the remaining washes in your subscription until the end of your billing period, at which point your subscription will not be renewed.
Have other questions or feedback? Please reach out to us directly at carwashsupport@fcl.crs.