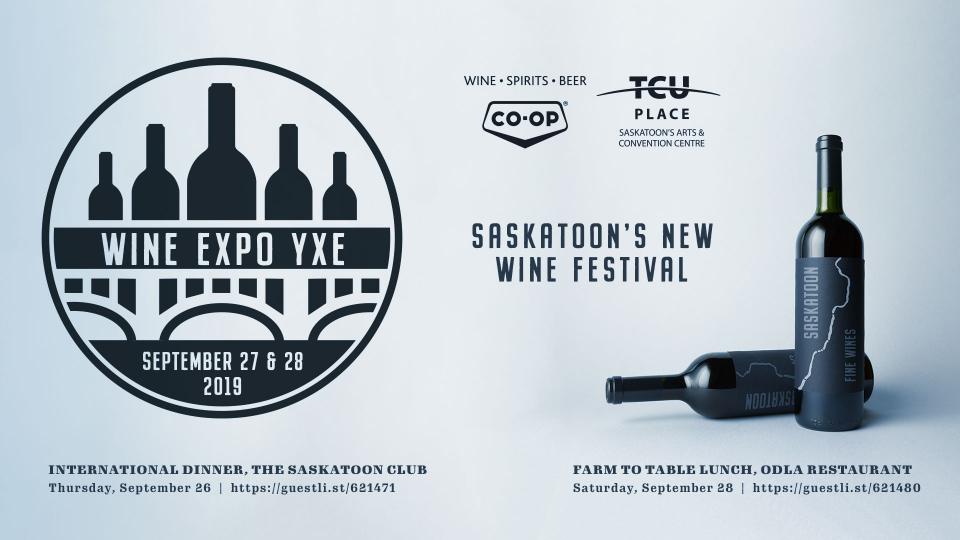 Wine Expo YXE
August 13, 2019
Saskatoon will have a new wine show this fall. Presented by TCU Place and Saskatoon Co-op Wine Spirits and Beer, Wine Expo YXE will make its debut September 27th and 28th, 2019. With attendance of 1000 visitors anticipated over the course of two days, this show promises to be the most exciting wine event in Saskatchewan, bringing consumers and trade together for a wine only exposition. The tasting room is located in the Grand Salon area of TCU Place, Saskatoon's Arts and Convention Centre, located downtown at 35 – 22nd Street East.
Saskatoon Co-op Wine Spirits and Beer brings an on-site retail presence to Wine Expo YXE, with all wines in the program available for consumer purchase at the show. This year, Wine Expo YXE is expected to feature more than 200 wines from more than 50 exhibitors.
Show visitors can experience the Elite VIP Tasting or the International Tasting
[Official Wine Expo YXE Page: https://tcuplace.com/wineexpoyxe/ ]
International Dinner The Saskatoon Club, Thursday, September 26th
Farm to Table Lunch Odla Restaurant, Saturday, September 28th
Click on the links above to Buy Tickets or visit our Event Calendar


The International Tasting takes place from 7:00 PM until 9:30 PM and includes eight (8) wine samples and appetizers. International Tasting tickets are $50 per person, plus applicable taxes.
The Elite VIP Tasting package includes the International Tasting as well as exclusive access to the tasting room from 6:00 PM until 7:00 PM, passed hors d'oeuvres during the VIP hour, and includes five (5) premium wines and the International Tasting (8) samples. Elite VIP Tasting package tickets are $90 per person, plus applicable taxes. Additional samples will be available for purchase at the show.
Discover more: