We're Open During the Strike
Actions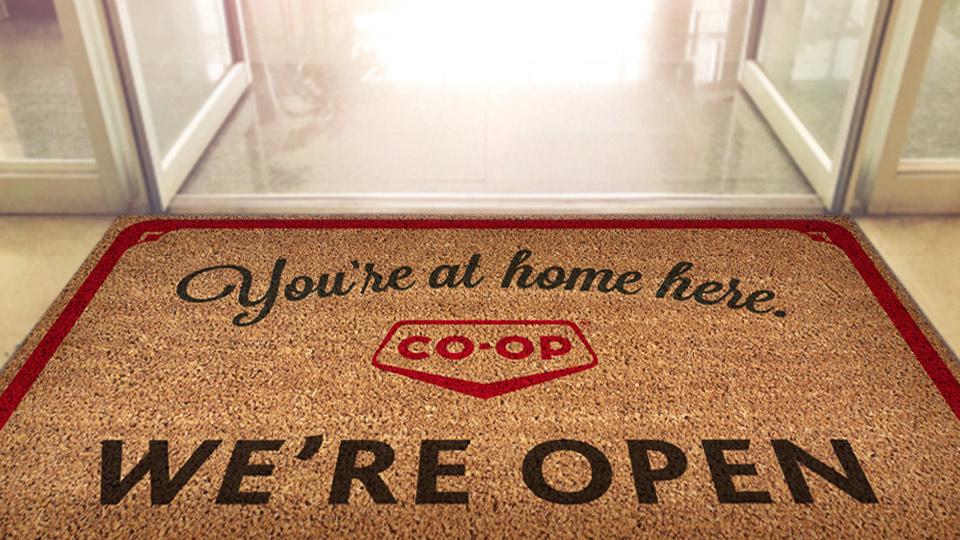 We're Open During the Strike
November 1, 2018
You may have heard about our union employees exercising their right to strike. We want to let you know that most Saskatoon Co-op locations are still open for you. Please refer to the updates below or check the hours of operation for your local store on the locations page.

Our Pharmacies will continue to fill customer prescriptions and provide essential services at all five locations. Customers are asked to call in refill orders 48 hours in advance when possible, with free delivery to any home address within Saskatoon and Warman.
Thanks for your patience as we find a fair agreement that will allow Saskatoon Co-op to serve you for years to come.
View our Frequently Asked Questions page.
Click here for more information about the labour dispute.



Saskatoon Co-op open locations



Food Stores
Hours of operation
Stonebridge
Monday – Sunday: 8:00 a.m. – 7:00 p.m.

Attridge
Monday – Sunday: 9:00 a.m. – 9:00 p.m.
Westview
Monday – Sunday: 9:00 a.m. – 7:00 p.m.
The Centre *
Monday – Sunday: 8:00 a.m. – 10:00 p.m.
Warman

Monday – Sunday: 8:00 a.m. – 9:00 p.m.

Martensville
Monday – Sunday: 8:00 a.m. – 9:00 p.m.
Colonsay
Monday – Saturday: 8:00 a.m. – 8:00 p.m.
Sunday: 10:00 a.m. – 6:00 p.m.
Watrous *
Monday – Saturday: 8:00 a.m. – 8:00 p.m.
Sunday: 10:00 a.m. – 5:00 p.m.
Hepburn*

Monday – Friday: 8:00 a.m. – 8:00 p.m.
Saturday: 8:00 a.m. – 7:00 p.m.
Sunday: Closed



Home Centres
Hours of operation
Avenue C, Saskatoon
Monday – Saturday: 8:00 a.m. – 6:00 p.m.
Sunday: Closed
Greystone, Saskatoon

Monday – Saturday: 8:00 a.m. – 6:00 p.m.
Sunday: Closed

Gas Bars
Hours of operation
Fairhaven
Monday – Friday: 7:00 a.m. – 9:00 p.m.
Saturday – Sunday: 9:00 a.m. – 8:00 p.m.
Greystone
Monday

-

Friday : 7:00 a.m. – 9:00 p.m.
Sunday - Saturday 8:00 a.m. – 9:00 p.m.

Westview

Monday – Saturday: 8:00 a.m. – 8:00 p.m.
Sunday: 9:00 a.m. – 7:00 p.m.

Preston Crossing
Monday

-

Friday: 7:00 a.m. – 10:00 p.m.
Saturday: 8:00 a.m. – 10:00 p.m.
Sunday: 9:00 a.m. – 7:00 p.m.

Attridge
Monday – Friday: 6:00 a.m. – 10:00 p.m.
Saturday - Sunday: 8:00 a.m. – 10:00 p.m.

Stonebridge
Monday – Friday: 6:00 a.m. – 10:00 p.m.
Saturday - Sunday: 8:00 a.m. – 9:00 p.m.

Avenue C

Monday – Friday: 6:00 a.m. – 10:00 p.m.
Saturday: 7:00 a.m

—

10:00 p.m.
Sunday: 7:00 a.m. – 9:00 p.m.

22nd Street

Monday – Friday: 7:00 a.m. – 8:00 p.m.
Saturday

—

S

unday: 8:00 a.m. – 8:00 p.m

51st Street


Monday – Friday: 6:00 a.m. – 9:00 p.m.
Saturday: 8:00 a.m. – 9:00 p.m.
Sunday: 10:00 a.m. – 6:00 p.m.

Blairmore

Monday – Friday: 6:00 a.m. – 9:00 p.m.
Saturday: 8:00 a.m. – 9:00 p.m.
Sunday: 10:00 a.m. – 8:00 p.m.

Martensville
Monday – Friday: 6:00 a.m. – 9:00 p.m.
Saturday

-

Sunday: 8:00 a.m. – 9:00 p.m.

Warman

Monday – Friday: 6:00 a.m. – 9:00 p.m.
Saturday & Sunday: 8:00 a.m. – 9:00 p.m.

Colonsay
Monday – Saturday: 8:00 a.m. – 8:00 p.m.
Sunday: 10:00 a.m. – 6:00 p.m.
Watrous *
Monday – Sunday: 6:00 a.m. – 10:00 p.m.
The Centre *
Monday – Friday: 6:00 a.m. – 11:00 p.m.
Saturday: 8:00 a.m. – 11:00 p.m.
Sunday: 8:00 a.m. – 10:00 p.m.
Dalmeny*

Monday – Thursday: 6:00 a.m. – 9:00 p.m.
Friday - Saturday: 6:00 a.m. – 10:00 p.m.
Sunday: 8:00 a.m. – 8:00 p.m.

Rosthern*

Monday – Saturday: 6:00 a.m. – 10:00 p.m.
Sunday: 8:00 a.m. – 9:00 p.m.

Waldheim*

Monday – Saturday: 7:30 a.m. – 9:00 p.m.
Sunday: 11:30 a.m. – 7:00 p.m.

Pharmacy
Hours of operation
Attridge Food Store
Monday – Friday: 9:00 a.m. – 9:00 p.m.
Saturday – Sunday: 10:00 a.m. – 6:00 p.m.

Stonebridge Food Store
Westview Food Store
Monday – Friday: 9:00 a.m. – 7:00 p.m.
Saturday – Sunday: 10:00 a.m. – 6:00 p.m.
The Centre *
Monday – Friday: 9:00 a.m. – 10:00 p.m.
Saturday –Sunday: 10:00 a.m. – 6:00 p.m.
Warman
Monday – Friday: 9:00 a.m. – 8:00 p.m.
Saturday: 10:00 a.m. – 6:00 p.m.
Sunday and Stat Holidays: Closed
Our Pharmacies will continue to fill customer prescriptions and provide essential services at all five locations. Customers are asked to call in refill orders 48 hours in advance when possible, with free delivery to any home address within Saskatoon and Warman.
Other
Hours of operation
Blairmore Liquor Store
Meadows Market Liquor Store
8th Street Liquor Store
Monday – Saturday: 10:00 a.m. – 9:00 p.m.
Sunday: 10:00 a.m. – 5:00 p.m.

Saskatoon Agro Centre
Monday – Saturday: 8:00 a.m. – 5:00 p.m.
Sunday: Closed
Watrous Home & Agro Centre *
Monday – Saturday: 8:00 a.m. – 6:00 p.m.
Sunday: Closed
Hepburn Food, Gas Bar & Agro Centre*

Monday – Friday: 8:00 a.m. – 8:00 p.m.
Saturday: 8:00 a.m. – 7:00 p.m.
Sunday: Closed

Cardlocks
Open 24/7
* Represented by a separate union
Discover more: