Supporting Local 2020
August 5, 2020
Our visits on our tour this summer have taken us to Interval House, Cosmopolitan Industries, then to CHEP Good Food Inc., Egadz and Saskatoon Housing Coalition.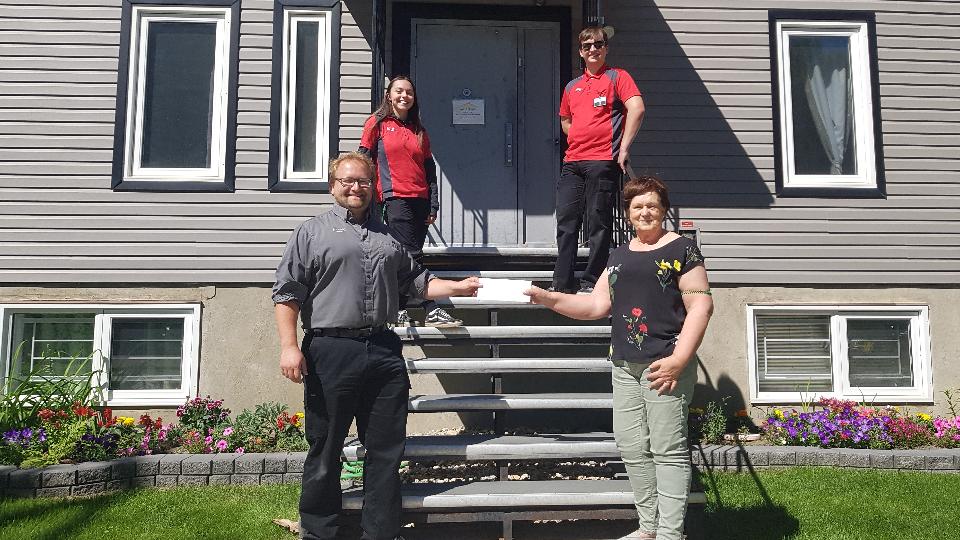 We'd like to give a shout out to Verna for hosting our Warman Gas Bar team visit to
Saskatoon Interval House
.
In addition to housing victims of domestic violence, Interval House provides awareness in the community, as well as programs aimed at prevention.
The donation we provided them will go toward maintaining and running the shelter, and programs for the women and children who use the facility.
For more information about this non-profit visit
Interval House
.
[Photo above: top left clockwise: Jesse, Andrew, Verna & Adam]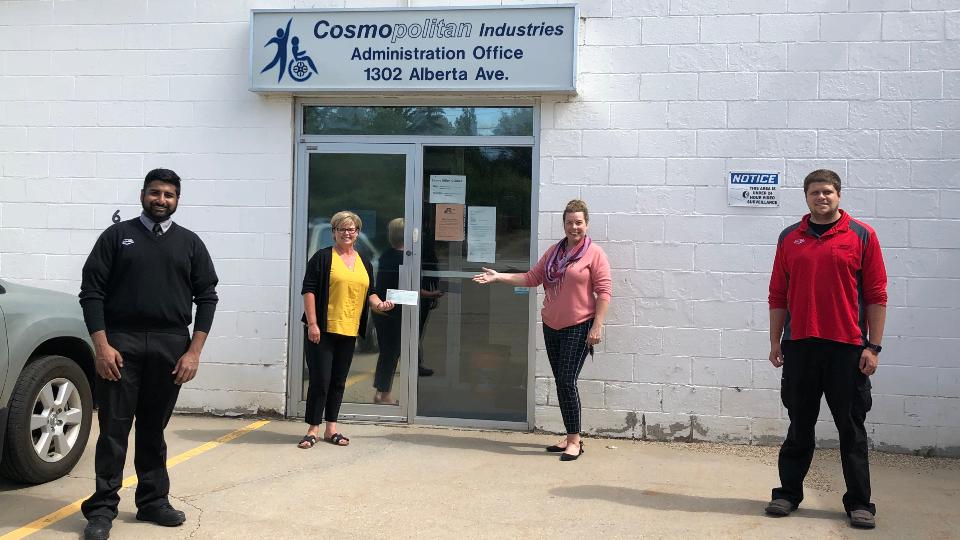 Cosmopolitan Industries
has been a fixture in our community supporting those with intellectual disabilities since 1982. Vocational, volunteer, recycling, educational and creative programs support over 400 participants and include 150 staff members.
We visited Cosmo Industries with our team members from our WSB Division this week to present a cheque for over $2,900 in support.
A tour wasn't possible due to COVID, yet we were provided insight by long serving member Sharlene into the happenings at their Alberta Ave location. Although the pandemic has changed the processes and full services provided to participants in the short-term, there are continued online interactions and field trips. Cosmo Industries is enriching lives every day!
The pandemic has also limited some key fundraising initiatives, such as their annual golf tournament. If you'd like to support Cosmo Industries, or just have your garage emptied of recyclables, you can sign up today to have your bottles and cans picked up by the
Cans for Cosmo
program.
[Photo above: left to right: Dale, Sharlene, Majken, Adam & Venus is behind the camera!]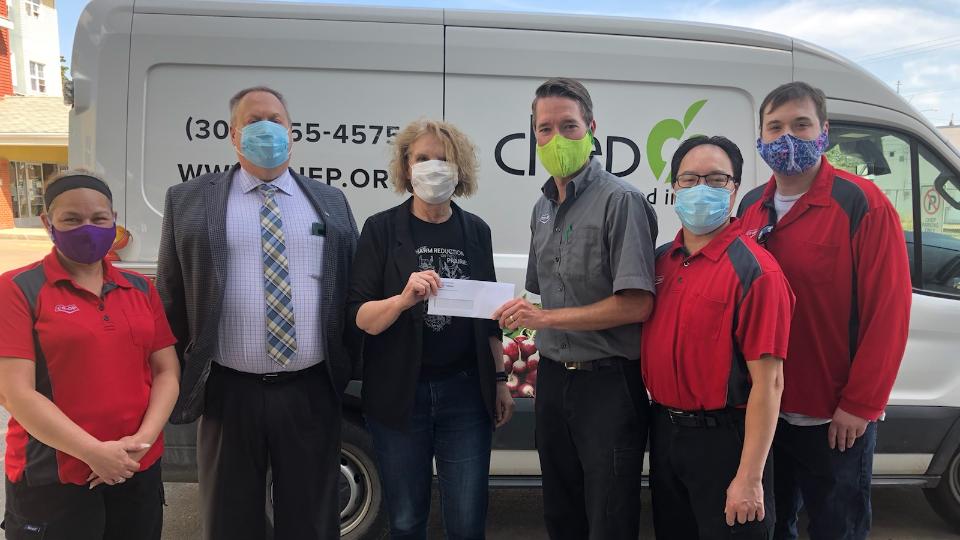 CHEP Good Food Inc.
is a non-profit group that receives donated food from local stores to sell at their market for those in need. They run a food Hamper program for low income families and those that are struggling through the pandemic.
Also CHEP helps with a breakfast and lunch program with near-by schools for the children that don't have the luxury of receiving those meals. A class has been created to help teach teens how to prepare and cook meals for themselves or younger siblings that live on their own.
We are proud to support
CHEP
again this year! Thanks Jean, for hosting a visit from our Stonebridge Food team members.
[Photo above, left to right: Tanya N, Gary B, Jean G, Dion F, Henry L, Tyler B ]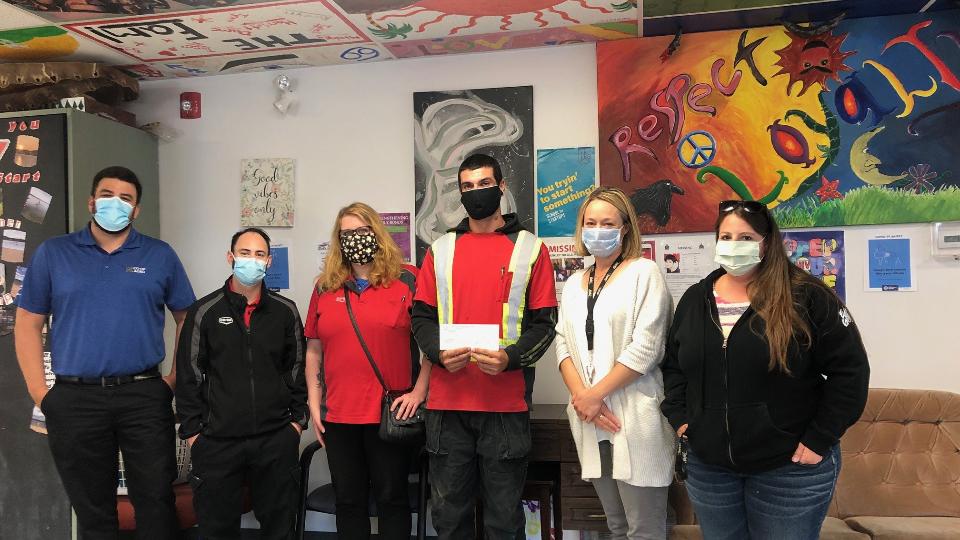 Egadz (Saskatoon Downtown Youth Centre Inc.)
Our staff really enjoyed the opportunity to go out and see the good that comes from the support the Saskatoon Coop provides to the community. We were all genuinely surprised by how many programs
Egadz
provides and the reach that organization has. On the way home, the staff and I came up with a plan to do a quick presentation on our favorite programs that we learned about while visiting.
At our next weekly "Toolbox Meeting" we will inform the rest of the staff of our visit and provide a brief description of one of our favorite programs
Egadz
offers.
[Photo above, left to right: Colin P, Benedict H, Kevin B (Agro Centre team members), Maria P (Egadz), Amanda G (Egadz).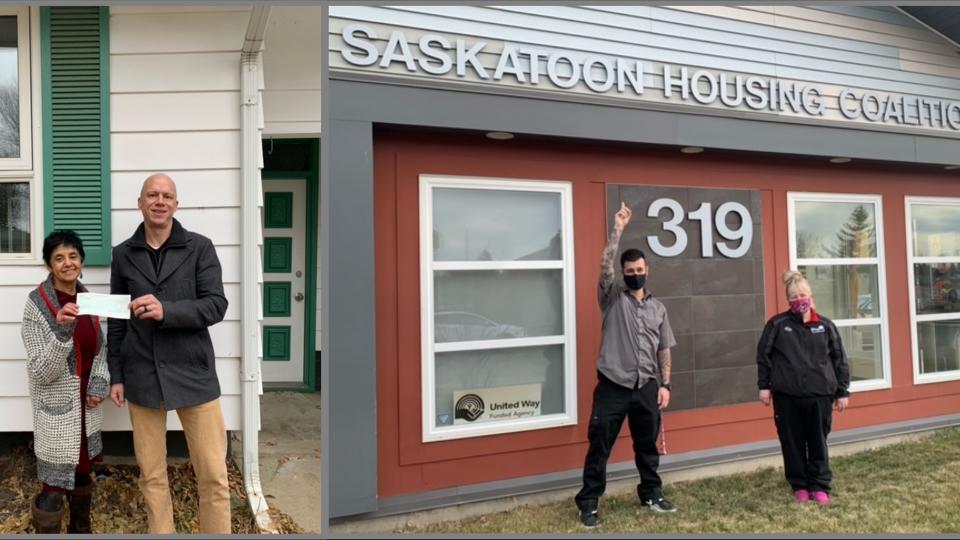 We'd like to give a shout out to Liz and Drew for hosting our Westview Gas Bar team visit to
Saskatoon Housing Coalition
.
While at the
Saskatoon Housing Coalition
we found out how they help people struggling with addictions or mental illness. They provide stable homes and connect clients with the right counselors or psychiatrists to assist them in living independently. We had the chance to visit the home where clients live and was amazed at the support they had. Each person in the home takes their turn grocery shopping and are responsible for cooking a meal for the group once a week. It was very interesting to hear how they are helping each other get back on a better path.
[Photo above, left to right: Liz S. and Drew B. (Saskatoon Housing Coalition), Clayton N. and Kristine P. (Westview C-Store/Gas Bar team members)