Saskatoon Co-op Member Virtual Town Hall Meeting, Nov 1
Actions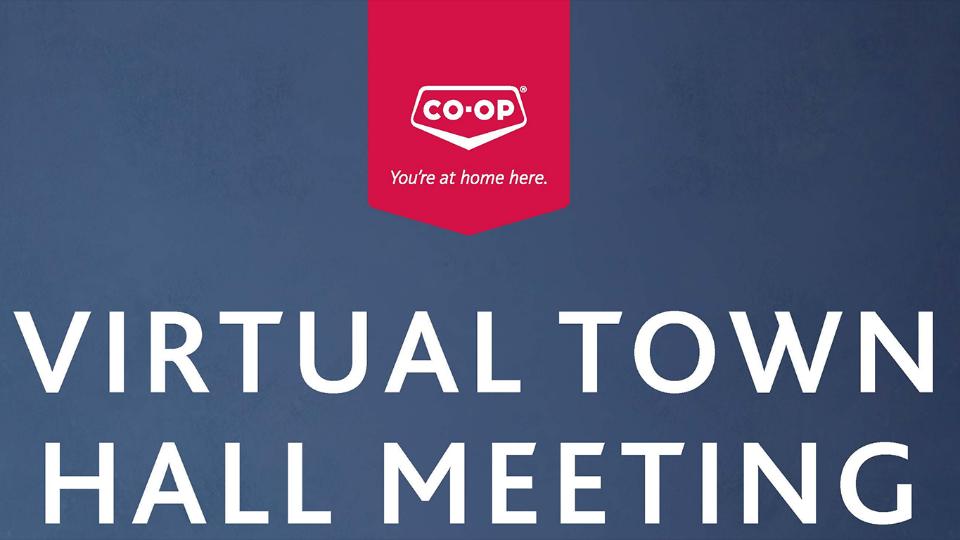 Saskatoon Co-op Member Virtual Town Hall Meeting, Nov 1
October 8, 2021
Join us on November 1 at 7 PM for a Virtual Town Hall Meeting, hosted on Zoom. This is an opportunity for Saskatoon Co-op members to connect with members from the Board of Directors to hear about important topics that are impacting the Co-op, and to ask questions.
AGENDA
Welcome Remarks – Graham Addley, Board President


Member Equity Education – Rachel Kehrig, Director of Communications & Marketing
Rachel will provide an overview of our unique member equity program that allows for members to generate long-term equity and receive annual cashback payments that creates life time membership benefits.


Co-op in the Community – Gerald Hiebert, Chief Executive Officer
Gerald will share with members a look at the exciting programming going on at Saskatoon Co-op including a focus on growth and business development, community support and events, and a look at the environmentally sustainable initiatives Saskatoon Co-op has adopted at our locations.


Q & A with Saskatoon Co-op Board of Directors and CEO
We invite our members to engage with our Board and CEO during this virtual Town Hall Event. We ask that members bring forward questions you may have for us by emailing them in advance to board@saskatooncoop.ca or by submitting at the meeting through the chat function.
To register for this online event, click here.
The meeting will be held virtually, on Zoom. The link will be circulated to registered attendees in advance of the meeting.