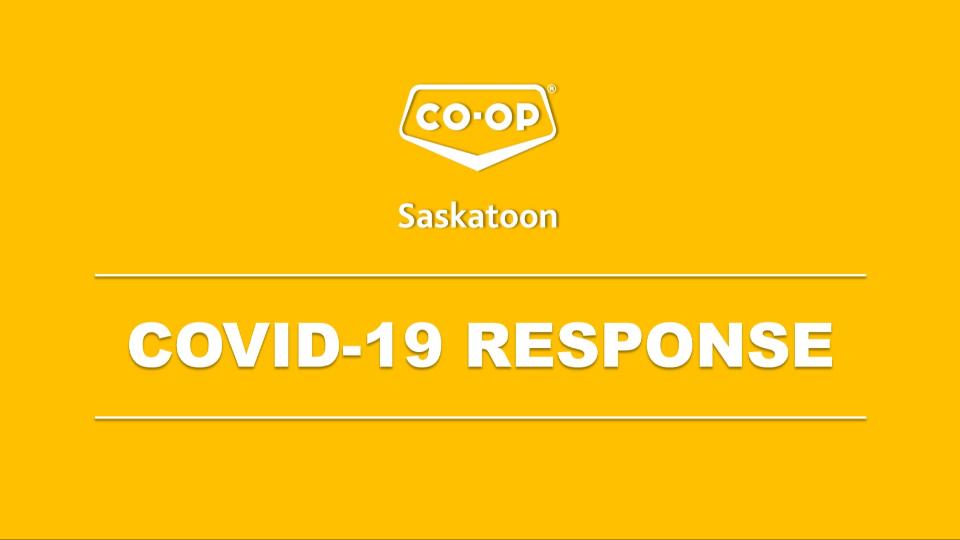 COVID-19 Response
March 20, 2020
Last updated March 28, 2020
The novel coronavirus (COVID-19) pandemic is a global challenge that is having a real impact on the communities we serve.
We are taking steps across all of our business and locations to keep our team members and customers safe and healthy, including:
Our stores are cleaned and sanitized daily as part of normal business, and we have increased the frequency and intensity of cleaning practices, especially on high-touch surfaces.
We have provided our team members with current information on prevention so they can stay healthy or stay home if they are feeling ill or are at risk of contracting the virus. These practices are informed by Health Canada (Canada.ca/coronavirus), the Government of Saskatchewan (Saskatchewan.ca/coronavirus) and two full-time Registered Nurses who advise our health and wellness practices.
We have limited the number of team members working in smaller spaces at any given time.
Employees who can work remotely have been given the option and resources to do so.
Signage, physical barriers and visual cues have been installed in all of our locations to remind our guests of proper social distancing and other health and safety practices while shopping.
We have started controlling the number of shoppers in our locations, and will expand this practice as needed.
Due to volatility in supply and transmission risk, we are currently not accepting product returns or issuing rainchecks.
We have temporarily discontinued all sales and services related to lottery products.
ADDITIONAL CHANGES IN FOOD STORES
Purchase limits are in place on high-demand essential items including toilet paper, other paper products, and sanitizing products.
An Early Shopping hour (first hour of operations at all food stores) is reserved for our elderly and vulnerable guests.
We have suspended our reusable bag program and the charge for plastic bags, and are asking customers not to bring reusable bags in our stores.
We have temporarily removed self-serve bulk bins, hot prepared foods and salad bar items from our stores.
Plexiglass barriers have been installed at some checkouts and we are currently sourcing additional material to install these at our other locations.
ADDITIONAL CHANGES IN PHARMACIES

Our pharmacies are ensuring continued drug supply by filling a maximum one-month supply of all medications. Prescriptions will not be filled more than 10 days before the last refill is due to run out.
Our pharmacies are not handling any vials brought back into the pharmacy for reuse. Please recycle through your blue bin at home.
Pharmacy hours have been reduced to allow for safe shift changes and for the ongoing health of our pharmacists.
ADDITIONAL CHANGES IN GAS BARS
Full service at the pumps has been temporarily discontinued as of March 26, 2020. We continue to provide fuel to our guests and our communities through self-serve. This decision has been made so we can minimize personal contact between team members and customers, and focus on sanitation at our sites.
While full service at the pumps is suspended, we are asking all guests to pre-pay for their fuel. Payment can be made at the pumps, or one of our gas bar/convenience store clerks will safely take payment inside before guests fuel up.
Frequency of cleaning in all gas bars and convenience stores has been increased.
Self-serve beverage stations and hot foods (e.g., roller grill) have been temporarily discontinued.
ADDITIONAL CHANGES IN LIQUOR STORES

Wine Spirits and Beer locations are not accepting product returns at this time.
Growler bars have been closed and liquor tasting events have all been postponed until further notice.
ADDITIONAL CHANGES IN HOME CENTRES
Delivery services have been adapted to ensure minimal personal contact between team members and customers.
CHANGES AT ADMINISTRATION
As of March 19, 2020, our Administration building is closed to the public. Account payments can be made at our retail locations. Administration staff can still be reached by phone at 306-933-3801 and email admin@saskatooncoop.ca.
---------------------------------------------------------------------------------------------------
IMPORTANT NOTICE TO OUR GUESTS
We are asking all of our guests to take these important precautions to ensure the safety of all of our guests and our Saskatoon Co-op team members:
If you are ill, have travelled internationally in the past 14 days, or have been in contact with someone who has contracted the COVID-19 virus, please do not enter our stores.
Maintain at least 2 metres between you and all others at all times.
One family member shopping at a time. Please do not shop in groups.
Please do not bring reusable bags into our stores. We are temporarily suspending the charge for plastic bags.
Please obey signage and markings on the floor in our stores.
Please touch only the items you intend to buy.
To limit contact and cash handling, please use debit or credit payment if possible. Use tap to pay if possible. At our gas bars, pay at the pump is preferred.
Be patient as our team members work hard to stock our shelves, and take extra breaks during the day to wash their hands and sanitize high-touch surfaces.
Please share this information with your friends and family. These are practices we can all use, no matter where we are shopping.
Thank you for your cooperation.
---------------------------------------------------------------------------------------------------------------------

We believe we are taking the right steps to ensure that your local Saskatoon Co-op stores are safe. With the support of our suppliers, we'll also make sure that our prices on all essential items remain stable throughout this challenging time.
Thank you for being a loyal Co-op customer and member. We'll continue to update you on our efforts to help our team members and communities stay safe and healthy.
---------------------------------------------------------------------------------------------------------------
Sign up for email updates from your Co-operative Retailing System[CRS]
----------------------------------------------------------------------------------------------------------------