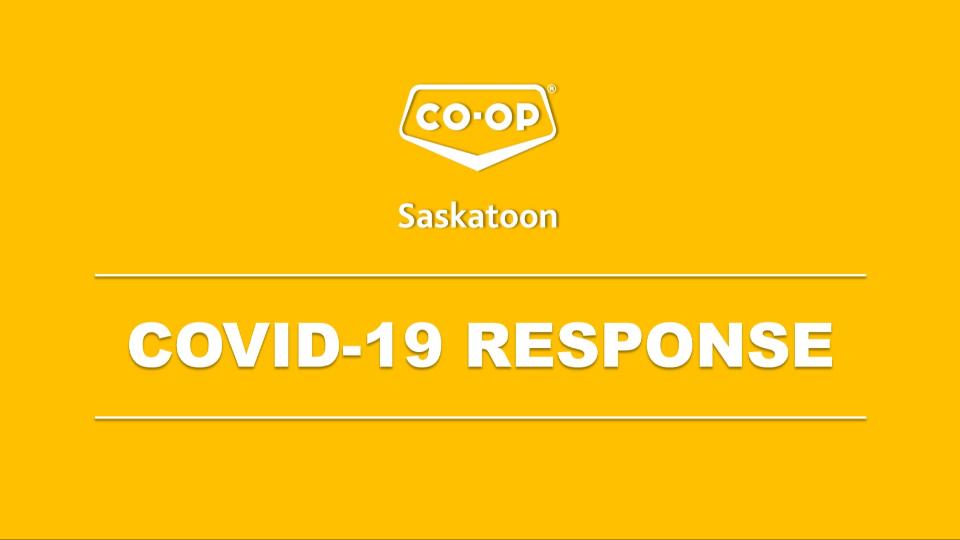 COVID-19 Response
March 20, 2020
Last updated October 15, 2020
---------------------------------------------------------------------------------------------------------------------------------------

The novel coronavirus (COVID-19) pandemic is a global challenge that is having a real impact on the communities we serve.
We are taking steps across all of our business and locations to keep our team members and customers safe and healthy, including:
Our stores are cleaned and sanitized daily as part of normal business, and we have increased the frequency and intensity of cleaning practices, especially on high-touch surfaces.
We have provided our team members with current information on prevention so they can stay healthy or stay home if they are feeling ill or are at risk of contracting the virus. These practices are informed by Health Canada (Canada.ca/coronavirus), the Government of Saskatchewan (Saskatchewan.ca/coronavirus) and two full-time Registered Nurses who advise our health and wellness practices.
We have limited the number of team members working in smaller spaces at any given time.
Signage, physical barriers (including plexiglass shields) and visual cues have been installed in all of our locations to remind our guests of proper social distancing and other health and safety practices while shopping.
One-way aisles and other directional signage has been installed to help everyone maintain the proper distance while shopping.
We are controlling the number of shoppers in our locations to allow proper distancing.
For the safety of everyone, especially our youngest members, we have temporarily discontinued all in-store Kids Club activities.

ADDITIONAL CHANGES IN FOOD STORES
Curbside pick-up services are now available at food stores in Saskatoon, Warman, Martensville and Watrous, with plans to consider expansion to more locations.
Purchase limits are in place on some high-demand essential items including toilet paper, other paper products, and sanitizing products.
An Early Shopping hour (first hour of operations at all food stores) is reserved for our elderly and vulnerable guests.
Reusable bags are now allowed in the stores; we ask that you wash your reusable bags regularly. No customer packaging is to be placed on checkout counter. Please leave your reusable bags in your cart while you pack your own groceries.

We have temporarily removed self-serve bulk bins and salad bar items from our stores.
Plexiglass barriers have been installed at checkouts.
No rainchecks will be issued while supply restrictions are in place.

ADDITIONAL CHANGES IN PHARMACIES

Flu shots and other vaccines, including those for pneumococcal disease and shingles, are being administered by pharmacists by appointment. We ask patients to wear a mask, reschedule appointments if any symptoms of illness are experienced, and attend appointments alone or with only one caregiver.
Our pharmacies continue to preserve drug supply by ensuring that prescriptions will not be refilled excessively early. With few exceptions, pharmacy teams request that patients use up 80% of their current supply before refilling.

Our pharmacies are not handling any vials brought back into the pharmacy for reuse. Please recycle through your blue bin at home.
Pharmacy hours have been reduced to allow for safe shift changes and for the ongoing health of our pharmacists.
We are encouraging all guests to call in to a pharmacy to order medications, and use our free delivery service in Saskatoon, Warman and Martensville.
ADDITIONAL CHANGES IN GAS BARS
Full service is available at all of our gas bar locations with social distancing protocols in place.
Plexiglass shields have been installed at all service counters.
Frequency of cleaning in all gas bars and convenience stores has been increased, and high-touch surfaces are sanitized multiple times per day.
ADDITIONAL CHANGES IN LIQUOR STORES

We have opened an online store for home delivery and curbside pick-up from our 8th Street location. Visit shopliquoryxe.ca to shop today.
Plexiglass shields have been installed at all service counters.
Wine Spirits and Beer locations are not accepting product returns at this time.
ADDITIONAL CHANGES IN HOME CENTRES
Online ordering and curbside pick-up is now available at our Saskatoon Home Centre locations.
Delivery services have been adapted to ensure minimal personal contact between team members and customers.
Plexiglass shields have been installed at service counters.
Rainchecks will not be issued while supply restrictions are in place.

ADDITIONAL CHANGES AT AGRO CENTRE
Plexiglass shields have been installed at service counters.
Rainchecks will not be issued while supply restrictions are in place.

CHANGES AT ADMINISTRATION
Our Administration building is now open to the public, with restrictions on the number of member/guests in our front reception. If you would like to make an appointment at the office, our Administration staff can be reached by phone at 306-933-3801 and email admin@saskatooncoop.ca.

Account payments can also be made in office, online or at any of our retail locations. Alternate ways to pay your Saskatoon Co-op charge account are:

• Online banking through your bank. We are set up with all the major banks as an online payee. Search for Saskatoon Co-operative Association as "Saskatoon Co". Your member number is your account number.

• Any Saskatoon Co-op Gas Bar, Home Centre, Food Store, including locations in Saskatoon, Warman, Martensville, Hepburn, Rosthern, Dalmeny, Waldheim, Colonsay and Watrous – they accept debit, cheque, bank draft and cash.

If you have questions or need assistance setting up online payment you may email credit@saskatooncoop.ca or call 306-933-3812 or 306-986-0647



——————————————————————————————————

Preparing for COVID-19 at Saskatoon Co-op
We know our team members and our communities look to us to ensure our stores are a safe place to shop, and we take that responsibility seriously.
If we learn that an employee working at Saskatoon Co-op has been confirmed to have COVID-19, we will take the following actions to protect our team and our community:
When COVID-19 is confirmed, the public health authority will advise and provide direction to ensure the safety and well-being of our team members and customers and we will comply with any directions they provide, which may include:

reviewing the employee's work schedule and will ask other employees that have had direct contact to self-isolate as well
reviewing cleaning and sanitization practices to ensure adherence to current standards
deep cleaning the location with particular attention to high touch surfaces
We appreciate the work being done by all our employees in serving the community and we're working to support them as we make our way through this pandemic together. That's why when any of our employees are feeling unwell or showing symptoms, they are directed to remain at home, and will be followed up with by our Wellness Specialist who may recommend to contact 811 for further screening.
We understand the impacts of COVID-19, which is why we want to be transparent and disclose broad details about the confirmed cases while ensuring the confidentiality of our team. When we are aware of confirmed cases, we will update this page.

——————————————————————————————————
IMPORTANT NOTICE TO OUR GUESTS
We are asking all of our guests to take these important precautions to ensure the safety of all of our guests and our Saskatoon Co-op team members:
If you are ill, have travelled internationally in the past 14 days, or have been in contact with someone who has contracted the COVID-19 virus, please do not enter our stores.
Maintain at least 2 metres between you and all others at all times.
One family member shopping at a time. Please do not shop in groups.
Please keep your reusable bags in your grocery cart. We are temporarily suspending the charge for plastic bags.
Please obey signage and markings on the floor in our stores.
Please touch only the items you intend to buy.
To limit contact and cash handling, please use debit or credit payment if possible. Use tap to pay if possible.
Be patient as our team members work hard to stock our shelves, and take extra breaks during the day to wash their hands and sanitize high-touch surfaces.
Please share this information with your friends and family. These are practices we can all use, no matter where we are shopping.
Thank you for your cooperation.
——————————————————————————————————

Our first priority is the safety and well-being of our team members. In appreciation for their outstanding work during these challenging times, we provided our team with a pay premium through the period of highest risk in our province.
We believe we are taking the right steps to ensure that your local Saskatoon Co-op stores are safe. With the support of our suppliers, we'll also make sure that our prices on all essential items remain stable throughout this challenging time.
Thank you for being a loyal Co-op customer and member. We'll continue to update you on our efforts to help our team members and communities stay safe and healthy.
---------------------------------------------------------------------------------------------------------------
Sign up for email updates from your Co-operative Retailing System[CRS]
----------------------------------------------------------------------------------------------------------------