Co-ops, SIMFC Sign Agreement
Actions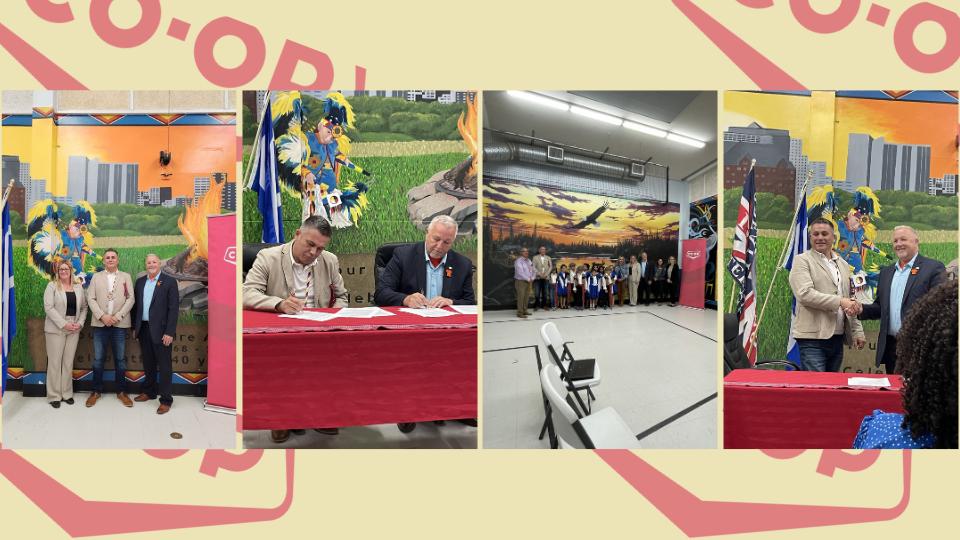 Co-ops, SIMFC Sign Agreement
July 4, 2023
On Thursday, June 29 Saskatoon Co-op, along with Federated Co-operatives Limited (FCL) and Saskatoon Indian & Métis Friendship Centre (SIMFC) signed an historic agreement that supports SIMFC in their mission to deliver culturally distinct community support for First Nations, Métis, and Inuit people.
We are committing financial and in-kind support over the next three years through this agreement toward the hot meal programs offered by SIMFC, supporting their fundraising needs, and providing volunteers to assist with their basic needs programming.
We will also have the opportunity to learn from SIMFC leadership through educational opportunities developed in-house. We are on our own path toward Truth and Reconciliation as well as becoming a more diverse, inclusive, and equitable organization. We are honoured and excited to explore the many future opportunities built between the three groups.