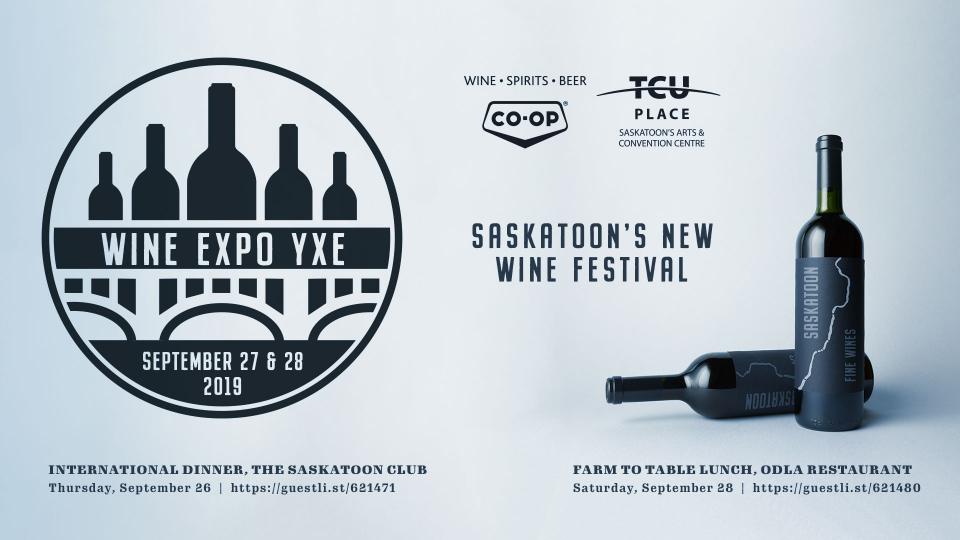 Co-op Liquor
August 20, 2018
Saskatoon Co-op's commitment to excellent service and to stocking the widest possible selection of beers, fine wines and spirits makes our liquor offerings a memorable experience.
Locations
Experience our extensive product selection and in-house expertise at the following locations:
Our hours of operation are as follows:
Monday to Saturday 9am - 11pm
Sunday 9am - 6pm
Stat Holidays - visit our ALL Page for details.


Wine Expo YXE
Saskatoon will have a new wine show this fall. Presented by TCU Place and Saskatoon Co-op Wine Spirits and Beer, Wine Expo YXE will make its debut September 27th and 28th, 2019. With attendance of 1000 visitors anticipated over the course of two days, this show promises to be the most exciting wine event in Saskatchewan, bringing consumers and trade together for a wine only exposition. The tasting room is located in the Grand Salon area of TCU Place, Saskatoon's Arts and Convention Centre, located downtown at 35 – 22nd Street East.
Saskatoon Co-op Wine Spirits and Beer brings an on-site retail presence to Wine Expo YXE, with all wines in the program available for consumer purchase at the show. This year, Wine Expo YXE is expected to feature more than 200 wines from more than 50 exhibitors.
Show visitors can experience the Elite VIP Tasting or the International Tasting
[Official Wine Expo YXE Page: https://tcuplace.com/wineexpoyxe/ ]

International Dinner The Saskatoon Club, Thursday, September 26th
Farm to Table Lunch Odla Restaurant, Saturday, September 28th

Click on the links above to Buy Tickets or visit our Event Calendar below.

Tasting Events
Tasting room event tickets are available for purchase online.
Simply visit our Event Calendar, click on the event you are interested in attending, and follow the prompts to complete your purchase online.
We look forward to seeing you!
Our Latest Liquor Flyer
Deals on wine, spirits and beer await you in our Online Flyer.
Commercial Clients
Saskatoon Co-op is proud to provide products and services to local business.
Please see our Commercial Sales brochure attached below.
Wine Discovery Packs — New Wine Selections Every Month!
Our monthly selection of six different wines is sold in an easy to carry re-useable wine bag. Each wine discovery pack includes a tasting note from our sommeliers along with a food pairing and recipe for each wine in the pack.
Please see our Wine Discovery Pack attachment below.
Beer — In the Cooler or Fresh from the Tap
Explore our extensive beer cooler where you'll find beers from around the world, from the hot Caribbean islands, to the cool hills of Belgium and places in between.
Now you can also enjoy Saskatchewan made craft beer fresh from the tap. Our growler station offers an eco-friendly way to purchase local craft beer. Bring in your own 1L howler or 2L growler or purchase a new one from us, choose a great locally made craft beer and one of our team members will fill your bottle. With our pressurized station, your filled growler stays fresh for up to 10 days.
Visit us in store or call 306.385.3422 for more information.
Special Occasion Liquor Orders
Our customer service team will be pleased to recommend products and quantities for your special occasion. Please contact the Co-op Wine Spirits and Beer location near you for more details.
Many events require a Special Occasion Permit (SOP). Permits may be purchased directly through the Saskatchewan Liquor and Gaming Authority (SLGA).

Suppliers / Agents
For Suppliers/Agents only. The following forms can be accessed from our office by contacting wsbmarketing@saskatooncoop.ca:
Saskatoon Co-op Flyer Advertising Application
Saskatoon Co-op Floor Display Application
Saskatoon Co-op LTO Agreement
Discover more: