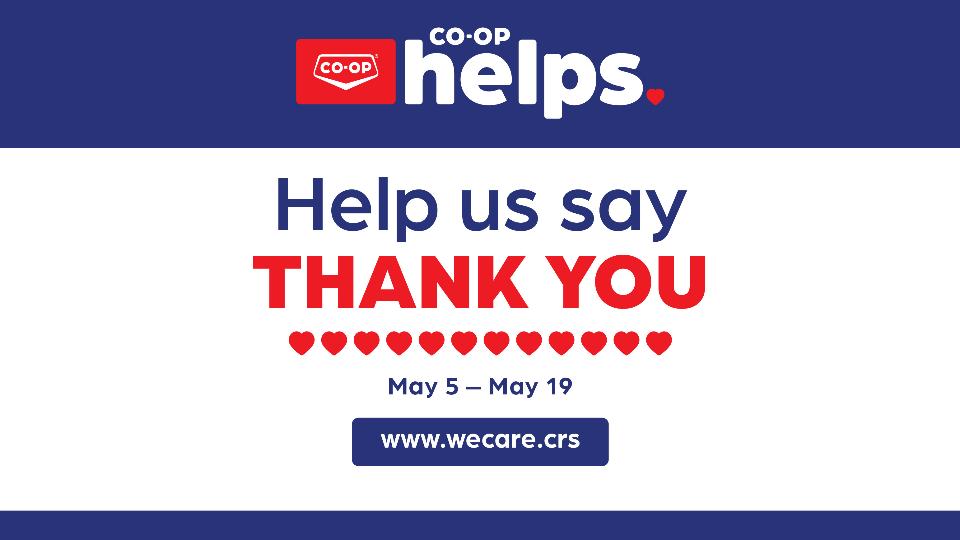 Co-op Helps
May 5, 2020
Since the beginning of the COVID-19 pandemic, your Co-op has been on the front lines delivering the essentials needed by our Co-op members, customers and communities.

Now, we want to help say thank you to somebody making your life a little easier or a little brighter.

Tell us about someone you know that has gone above and beyond to help their friends, neighbours or community during the pandemic and they could receive a $100 Co-op Gift Card.

This could be anyone from a frontline worker to someone down the street delivering baking to their neighbours.

Co-op will be giving out up to 1,250 gift cards across Western Canada. Nominations will be accepted May 5 to 19 at www.wecare.crs.

"Our community is stronger today because of the contributions people are making throughout this pandemic," said Gerald Hiebert, CEO of Saskatoon Co-op. "We continue our efforts to serve our Co-op members and customers, while also supporting initiatives that benefit our community throughout this challenge."

On behalf of local co-ops like ours, Federated Co-operatives Limited is making a $250,000 donation to provincial food banks in Western Canada. This donation is over and above what Saskatoon Co-op regularly contributes to the local food banks in our communities as well as the Good Buy to Hunger Program.

Saskatoon Co-op has also provided over $23,000 in additional community support to organizations and causes like the Family Meal Program in partnership with Saskatoon Tribal Council, CHEP Good Food Inc., Central Urban Metis Federation Inc., food banks in Colonsay, Watrous and Warman, Martensville Free Pantry, Good Neighbour Food Centre in Rosthern, plus our ongoing in-kind support to Saskatoon Food Bank & Learning Centre.
To nominate an individual or to learn more about Co-op's community efforts during the pandemic, visit wecare.crs
To read full media release, click on the attachment below: Nominations open to thank someone through Co-op Helps.