Call for Director Nominations
Actions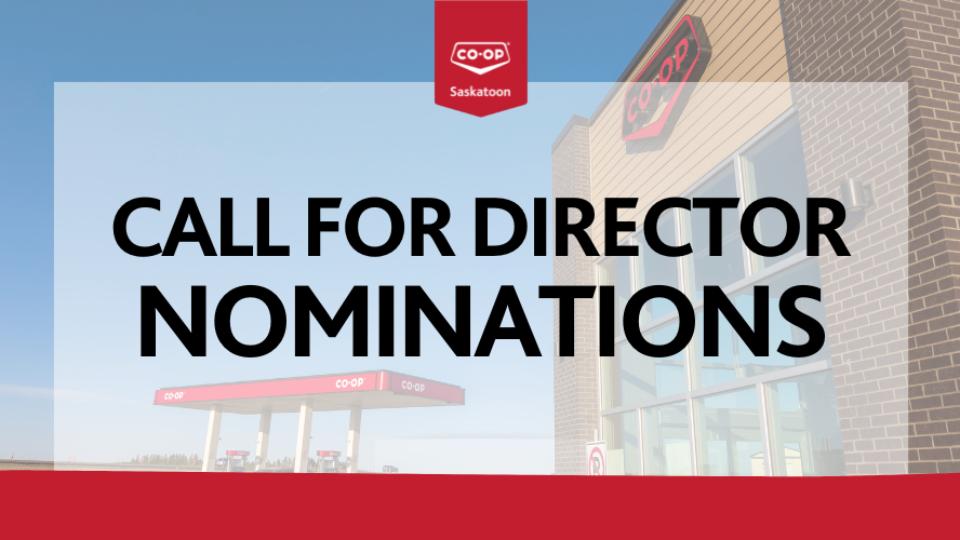 Call for Director Nominations
March 1, 2023
Saskatoon Co-op is seeking nominations for three positions on our Board of Directors.


The deadline for nominations is 4 PM on Wednesday, April 12, 2023. To submit a nomination, please review and complete the nomination package below and submit before the deadline.
Director Terms:

There are three eligible three-year terms open for election.
Director Responsibilities (include but are not limited to):
Attend nine monthly Board of Director meetings
Serve on (a) committee(s) and attend any committee and special meetings as may be deemed necessary
Attend board training and development sessions
Represent Saskatoon Co-op at other Co-op gatherings, such as the Federated Co-operatives Ltd. (FCL) Annual Meetings and Regional Zone Meetings
Promote impartial and transparent proceedings while maintaining necessary Board of Director confidentiality
Support the Co-op with their own membership purchases as much as possible
Be a willing participant at community events
Additional responsibilities as identified
At Saskatoon Co-op, we are committed to supporting diversity and inclusion, built on our values of community, integrity, and excellence. We do this through championing diversity, inclusion, and employment equity and seek qualified candidates who share our commitments. We welcome applications from First Nations, Métis, and Inuit peoples, members of visible minorities, persons with disabilities, women, and 2SLGBTQ+ (Two Spirit, Lesbian, Gay, Bisexual, Transgender, and Queer) persons.