2020 Board Election and AGM Results
Actions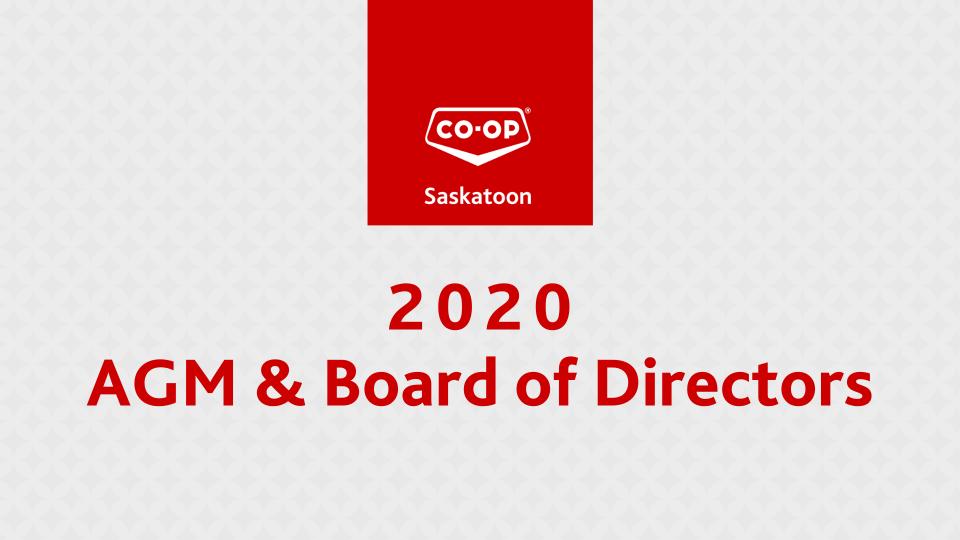 2020 Board Election and AGM Results
October 16, 2020
Congratulations to the following individuals, who were all elected to serve on the Saskatoon Co-op Board of Directors at the Annual General Meeting on October 15, 2020:

• Graham Addley (361 votes) - elected to a three-year term
• Norm Bemis (325 votes) - elected to a three-year term
• Donna Crockett (329 votes) - elected to a three-year term
• Ron Frey (321 votes) - elected to a one-year term
• David Thieme (313 votes) - elected to a one-year term
Thank you to Patricia Atkinson (295 votes) for pursuing a Director position on the Board.


Meet your new 2020 Board of Directors:
Graham Addley
Gordon Bedient
Norm Bemis
Carroll Chubb
Donna Crockett
Ron Frey
Nathan Holowaty
Erika Ritchie (currently on leave)
David Thieme


A Resolution from the Board was presented and defeated by the membership.

A Bylaw Amendment was proposed and accepted by the membership.

More than 700 members attended the first virtual AGM held by Saskatoon Co-op, and over 750 comments and questions were submitted throughout the evening.

Thank you to all members and guests who participated, and for your ongoing support of Saskatoon Co-op!


AGM 2020 Voting Results
Adopt Agenda – 487 members cast votes / 98.36% in favour
Approval of minutes – 486 members cast votes / 97.94% in favour
Approval of Auditors – 513 members cast votes / 93.96% in favour
Approval of Bylaw – 544 members cast votes / 86.58% in favour
Question to halt resolution debate and proceed with voting – 562 members cast votes / 77.4% in favour
Approval of Resolution – 562 members cast votes / 44.84% in favour
Approval of 2 – 1 year Director Terms – 528 members cast votes / 89.20% in favour
Election of Directors – 598 members participated / 1944 of 2990 eligible votes were received
Motion to Destroy Ballots – 530 members cast votes / 87.92% in favour
Motion to Adjourn – 278 members cast votes / 93.88% in favour