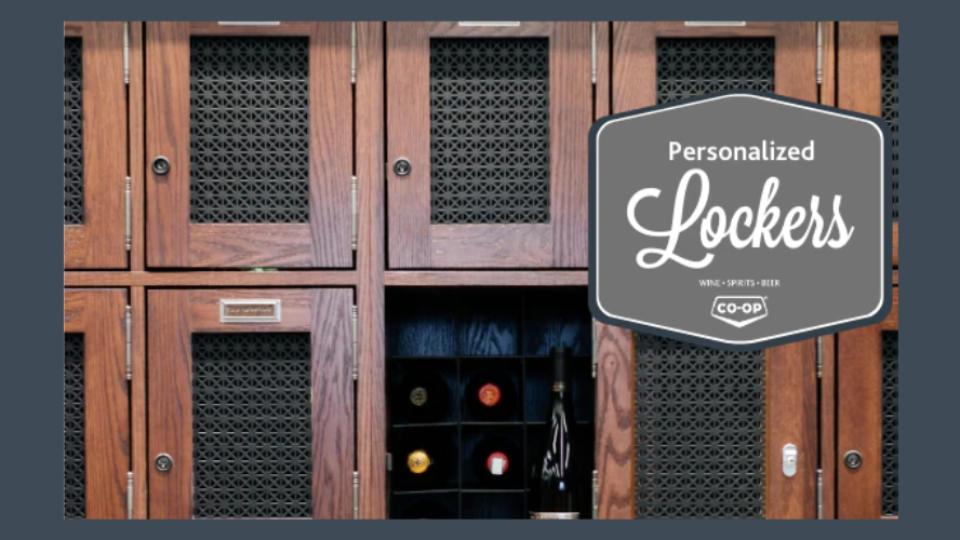 Co-op Locker Program
April 17, 2023
Become a Co-op Locker Member!
Enjoy personalized service from our sommelier team.
First, you choose the Co-op Wine Spirits and Beer location where you want to pick up your selection each month. We will set aside a locker with your name on it, in the store of your choice.
Next, you'll meet with a Co-op sommelier who will interview you to uncover your tastes and needs. Once they have your profile ,they will carefully select an assortment of wines, spirits or beer they know you'll love. You'll set a budget for each month. (Minimum $150/month per locker). On or after the first Friday of each month you'll arrive to unlock your cabinet and find a carefully selected array of wines, spirits or beer tailored to your tastes, regional preferences and budget. It's like unwrapping the best kind of present every single month! You'll pick them up, pay and go.

Whether you want to explore wines from new regions, find some new gems or just add a little variety to your collection, becoming a personalized locker member will take the guesswork out of shopping for wine. Let our sommeliers guide your wine journey and help you expand your tastes.
Membership Perks include:

Personal Concierge Service - Our sommeliers can select special bottles for celebrations or create custom gift baskets. Need a great bottle of wine for a hostess gift or a dinner party? We'll find the perfect choice and leave it in your locker for you to pick up when you're ready.
Wine Pairing Service - No time to research wines for a dinner party, or maybe you just need something paired with a special meal? Email your meal info to your personal sommelier, and they'll have the perfect pairing ready and waiting for you.

Classes & Special Events - If you'd like to learn more about wine, we can help! As a member you're eligible to attend special classes and tastings arranged just for our locker members.
Member Exclusive Products - We often have the opportunity to purchase small allocations of rare, hard to find wines and spirits. We like to offer our locker membership the first chance to purchase.

Please email liquor@saskatooncoop.ca to sign up!
There are no featured stories at this time.