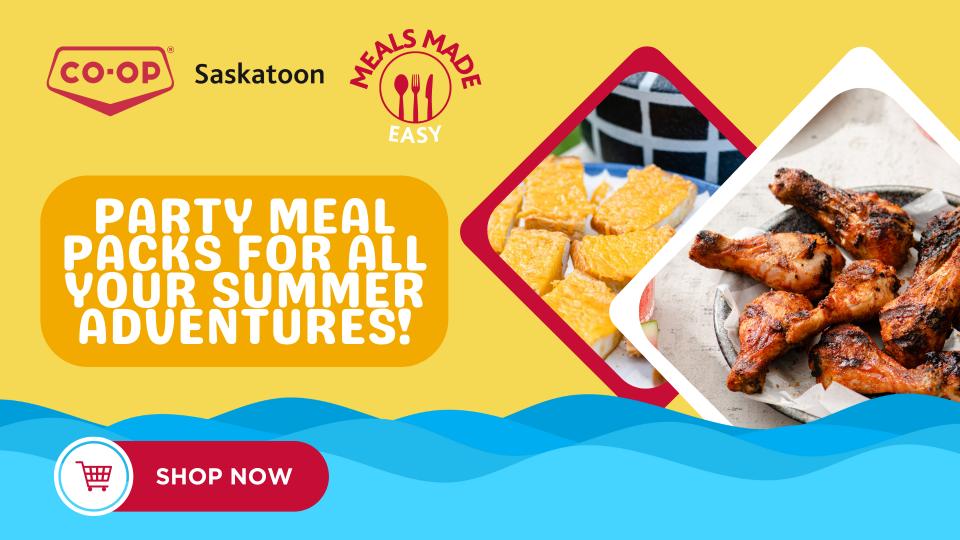 Meals Made Easy For Summer
June 18, 2023
Get ready to elevate your summer activities with Saskatoon Co-op's Meal Party Packs! Whether you're planning a lake trip, a camping adventure, or a lively backyard party, our Party Packs offer convenience, variety, and mouthwatering flavors, making your summer celebrations a breeze.
At Saskatoon Co-op, we understand the importance of hassle-free meal preparation. That's why our Meal Party Packs are designed to provide you with everything you need for a delicious meal, ready to cook in no time. With a wide range of options available, you can choose from Chicken Wings Party Packs, Chicken Drumsticks Party Packs, Bone in Dry Pork Ribs Party Packs, Garlic Cheese Bread, Salads, and more, all packed to perfection.With Saskatoon Co-op's Meal Party Packs, you can spend more time enjoying the sunny weather and less time in the kitchen. Simply fire up the grill or the stovetop, and you'll have a crowd-pleasing feast in minutes.
Visit our grocery stores today and explore our wide selection of Meal Party Packs. With our convenient options and delicious flavors, your summer gatherings will be a guaranteed hit!