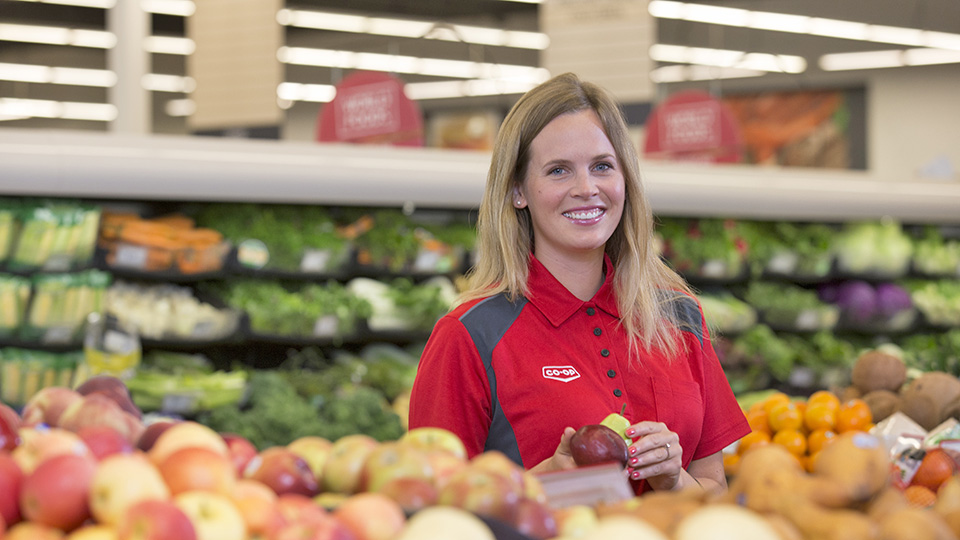 Produce Clerk
Saskatoon Co-op Food
Description:
Responsibilities:
• To assemble, display and merchandise fresh produce according to established association policies and procedures, which include: rotation of stock, trimming and preparation, washing, culling and quality policing, displaying for sale and price marking.
• To prepare and/or remove specified perishable products for overnight storage.
• To follow specific procedures of overnight care as set out by the association in the display and/or storage area.
• To assist in receiving and inspection of fresh produce into the warehouse.
• To examine and store all fresh produce as specified by the association.
• To inspect, rotate and remove fresh produce merchandise from storage and display.
• To notify the Produce Operator of excessive spoilage damage and/or shortages.
• To notify produce operator of need for adjustments from suppliers.
• To maintain markdown records with respect to shrinkage and spoilage so as to maintain margin controls.
• To be constantly alert for unauthorized removal of merchandise.
• To ensure adequate level of fresh produce is displayed at all times as specified by the association.
• To observe all association's policies with respect to sanitation, cleanliness and safety of employees and customers by: sweeping and mopping of floors as specified; keeping all aisles and passageways clear of obstacles and; keeping all shelves, bins, fixtures, utensils and related produce equipment clean and sanitary.
• To assist in scheduled inventory takes.
• To assist in all respects of maintaining the highest standards of customer service and relations.
• To acquire produce product knowledge by the reading and studying of materials provided, attendance of scheduled clinics and meeting and observance of all procedures and policies as set out by the association with respect to produce operations.
• To perform such other duties that may be assigned.
Qualifications:
• Must be strongly service-oriented and motivated, and be capable of assisting customers in a courteous and efficient manner.
• Must possess sufficient knowledge and experience of produce merchandise handled in order to effectively operate in the department.
• Be prepared to increase product knowledge and improve merchandising techniques through special courses, product clinics and seminars, and training sessions.
• Must be able to work with minimum of supervision and direction.
To apply, please fill out the attached application form above and send it to:
Human Resources Department
201 503 Wellman Crescent
Fax: 306.933.0352
Email: careers@saskatooncoop.ca
For inquiries about this position, please call 306.933.3810
Application Deadline:
December 22, 2018