A different kind of business - equity days 2020
Actions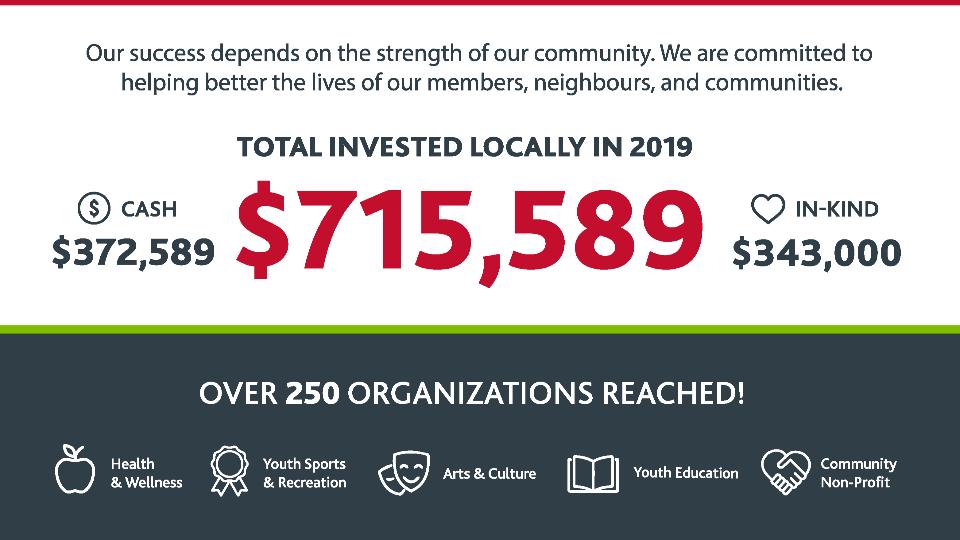 A different kind of business - equity days 2020
June 15, 2020
Update: August 2020
Our 'Thank you' Offers have now expired. We look forward to sharing offers with you again next year during Equity Days!
If you have not received your statement in the mail this year, please e-mail us at admin@saskatooncoop.ca to have it reissued prior to December 1.
Note: the minimum General Cash Repayment cheque issued is $10. Uncashed cheques are cancelled after six months, and the equity is then returned to members' equity accounts.

-------------------------------------------------------------------------------------------------



Equity statements and cheques are in the mail, along with exclusive offers for our member-owners!

To you, our 118,000+ member-owners: THANK YOU for your continued loyalty and support in 2019.

For the 27th year in a row, the Saskatoon Co-op Board of Directors has authorized a general cash repayment to the Co-op's owners: you, the members. For details on your cash back & equity please visit Membership Benefits.



Watch for your statement and check out the insert for 'THANK YOU' offers from us to you!

This year, the insert included with your cheque and/or equity statement shares how you can sign up for member e-mails, so we can share information about your membership with you more easily. When you sign up, we will also send you FIVE offers to use in our stores through July 2020, as a thank you for your ongoing support and loyalty. Make sure to sign up before June 30th.


Your membership = ownership in a different kind of business

Your membership has helped Saskatoon Co-op return over $27 Million in cash to our members over the last 5 years.

Our success depends on the strength of our community.
Visit the attachment below for more information about the impact you are making as a member-owner with your support: Giving Back 2019 & Cash Back & Equity 2020